From the Alps to Venice
Are you tired to live in a cave waiting for the end of the pandemic? Do you need to exit from your neverending comfort zone (but still stay safe)? Do you think the life is too short to waste time not choosing to apply for the wildest Summer?



If this means nothing for you, forget us!

If you feel the answers on your heart, keep reading on!!!



Immerse yourself in an elegant and lively city like Udine where sophisticated architecture stands side-by-side with rustic taverns; this is the place for experiencing authentic Friulian life.

The view from one hill (surprise!) extends to the gently rolling hills which make way for the spectacular panorama of the Prealps and Alps a little further to the North.



Starting from here we'll travel literally every day of the Summer because time flies too fast not to live at its fullest: you'll hike in the mountains and swim in the sea, you'll visit fantastic cities and experience the local culture, you'll feel the AEGEEAn Spirit in all your veins!



Forget modern times and get involved in the Middle Ages while you fight against the dragons with expert instructors of historical fencing; try to see the abysses while practicing scuba diving; find your inner self learning to control your breath and calm your mind with Yoga workshops; dive into a wild mountain lake and experience the thrill of the adventure park.



Your next stop will be Treviso, a town with Roman origins flourished during the Middle Ages. The city walls date from the period of Venetian domination; a single bombing raid in 1944 destroyed almost half of the city, but much has been restored, and what now remains it's a charming town of balconied houses and porticoed streets criss-crossed by picturesque canals.



Test your cooking skills with the Mediterranean Diet workshop, learn and practice some Italian and local dialects words (also the strange ones), visit a natural park cycling from Treviso and finally you cannot give up going to one of the most well-equipped beaches on the Adriatic Sea blessed with fine golden sand.



At the end of your dreaming Summer there's no better place to visit than Venice, a fairy tale city made up of over a hundred tiny islands separated by winding canals. This unique city on the water stands between sea and sky on millions of piles driven into the mud of a shallow lagune.



Don't miss the unique opportunity to visit a little known part of Italy that's very close to a worldwide renowned one (Venice). We're waiting for you!!!
Optional programme: Adventure Park (plus another sport activity to be decided)
Theme: Hiking in the Alps, visiting amazing cities, sports challenges, swimming at the beach and Venice: what else?! Accomodation: Gym, hostel (and potentially an alpine hut). This event was organized by AEGEE-Udine and AEGEE-Treviso.
Кога 🕛︎събота, 07 август 2021 г., 12:00 ч. - понеделник, 16 август, 10:00 ч. Гринуич+2
🌐︎ Място Udine φ46.06476 λ13.23593
Интернет адрес https://my.aegee.eu/summeruniversity/alps-to-venice
Организатор AEGEE-Treviso, AEGEE-Udine, summeruniversity@aegee-udine.it
Категории: SU и Sports
Въведено на неделя, 14 февруари 2021 г., 20:59:57 ч. Гринуич+1
Последна промяна на петък, 23 юли 2021 г., 12:39:59 ч. Гринуич+2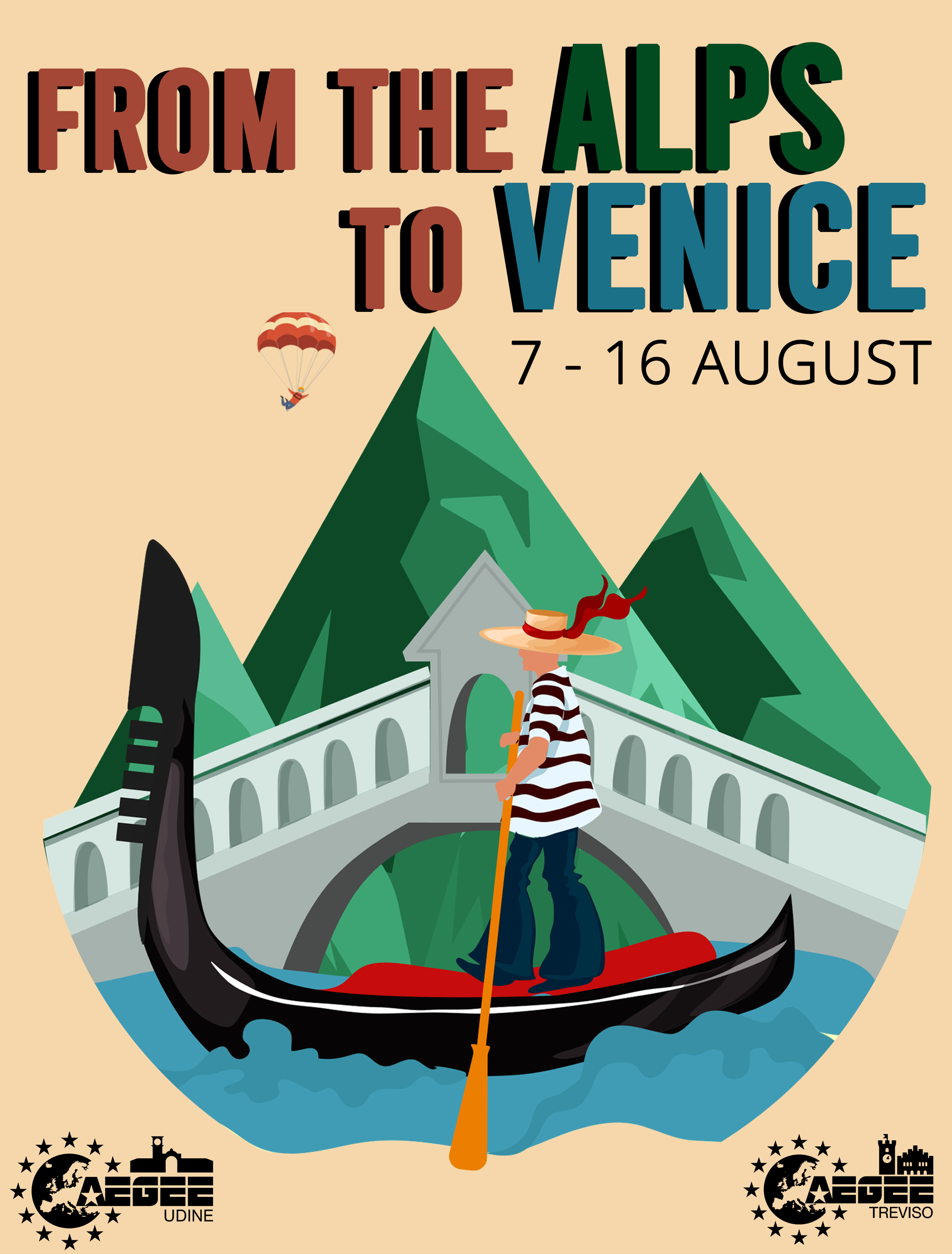 Връзка към календара https://cal.aegee.org/?d=2021-08-07&id=e947872a-224b-4c84-8d25-90a541a9ec4-16&cal=0
💾︎iCalendar файл https://cal.aegee.org/c/0/e947872a-224b-4c84-8d25-90a541a9ec4-16.ics
Календар OMS