How To Train Your Inner Dragon: Extreme Edition
Find a leader in yourself! Visit one of the top 5 student cities in the world and discover the beauties of South Moravia in a bit more extreme way.

"We had a full program that was always really nice and most of all the organizers were so happy and enthusiastic they made everybody feel great. The group was amazing!" (Yoran, AEGEE-Enschede)

"Organizers always cared about their participants and asked often for feedbacks to make the SU even better." (Andrea, AEGEE-Verona)

"The variety of activities was very surprising; wine and beer tasting, hiking, treasure hunts and much more." (Daniele, AEGEE-Pisa)

These are just three participants of the whole group amazed by our last SU, who voted us in the TOP 5 SUs of 2019. Are you bold enough to become another one? Then join us in Brno and find out "How to train your inner dragon", in a bit more extreme way ;-)

What are we going to learn?

This year we bring you the only SU that focuses on sustainability, inclusivity and leadership. Look forward to the outstanding interactive workshops and sessions delivered by amazing trainers from the AEGEE-Academy. "Does it mean that we will have to spend the whole day sitting somewhere in a classroom?" Not at all! The training includes many practical activities and simulation games where you can practise everything you've learned during the sessions and much more.

Never heard about Brno?

If not, shame on you! Brno is a student city famous for its cosy cafés, decent prices, inclusivity and nightlife. Fun fact: It was actually 2 times in a row voted by the students as one of the TOP 5 student cities in the world! And as our accommodation is located in the city centre, you can reach everything just by walking for a few minutes. There will be a hight climbing centre as well as the beer tasting prepared directly by the local organizers. And during our time in lama centre, you can even try to shower lamas on your own (don't tell us you haven't always wanted to try it ;-)).

Are we staying the whole SU in Brno?

Even though we are not a travelling SU we are not gonna stay all the time in one place. We have prepared for you a 6 night-long trip around the South Moravian region. Yes, a whole half of the SU will be a great outdoor experience!

For the first three nights we go camping, so all the lovers of nature are welcome. Compete in our outdoor cooking contest, hike to the castle Veveří, get scared during the horror night game and experience the European night under starry sky.
We will spend the second half of the trip in Mikulov, the hearth of our wine region and one of the most beautiful towns of the Czech Republic. Enjoy the wine tasting in the traditional Moravian wine cellar, visit the UNESCO protected Chateau Lednice and its beautiful gardens, get ready for the party on the top of the Holy hill with an amazing view and much more.

FAQ(ups):
Should I take my collection of bathrobes and three suitcases with me?
Better not.
Can I survive the whole SU in flipflops?
No…please
What is this beer thing anyway?
Come and you will see.
Optional programme: wine tasting, jungle park
Theme: Our SU focuses on leadership and developing soft skills in general as well as on raising awareness about nowadays important topics such as sustainability and inclusivity. Accomodation: gym, camping.
Wann 🕓︎Donnerstag, 29. Juli 2021 um 16:00 - Dienstag, 10. August um 12:00 MESZ
🌐︎ Ort Brno φ49.21146 λ16.60485
URL https://my.aegee.eu/summeruniversity/how-to-train-your-inner-dragon-extreme-edition
Veranstalter AEGEE-Brno, su@aegee-brno.org
Kategorien: SU und Sustainability
Erstellt am Montag, 15. Februar 2021 um 23:52:01 MEZ
Letzte Änderung am Freitag, 22. Oktober 2021 um 19:32:51 MESZ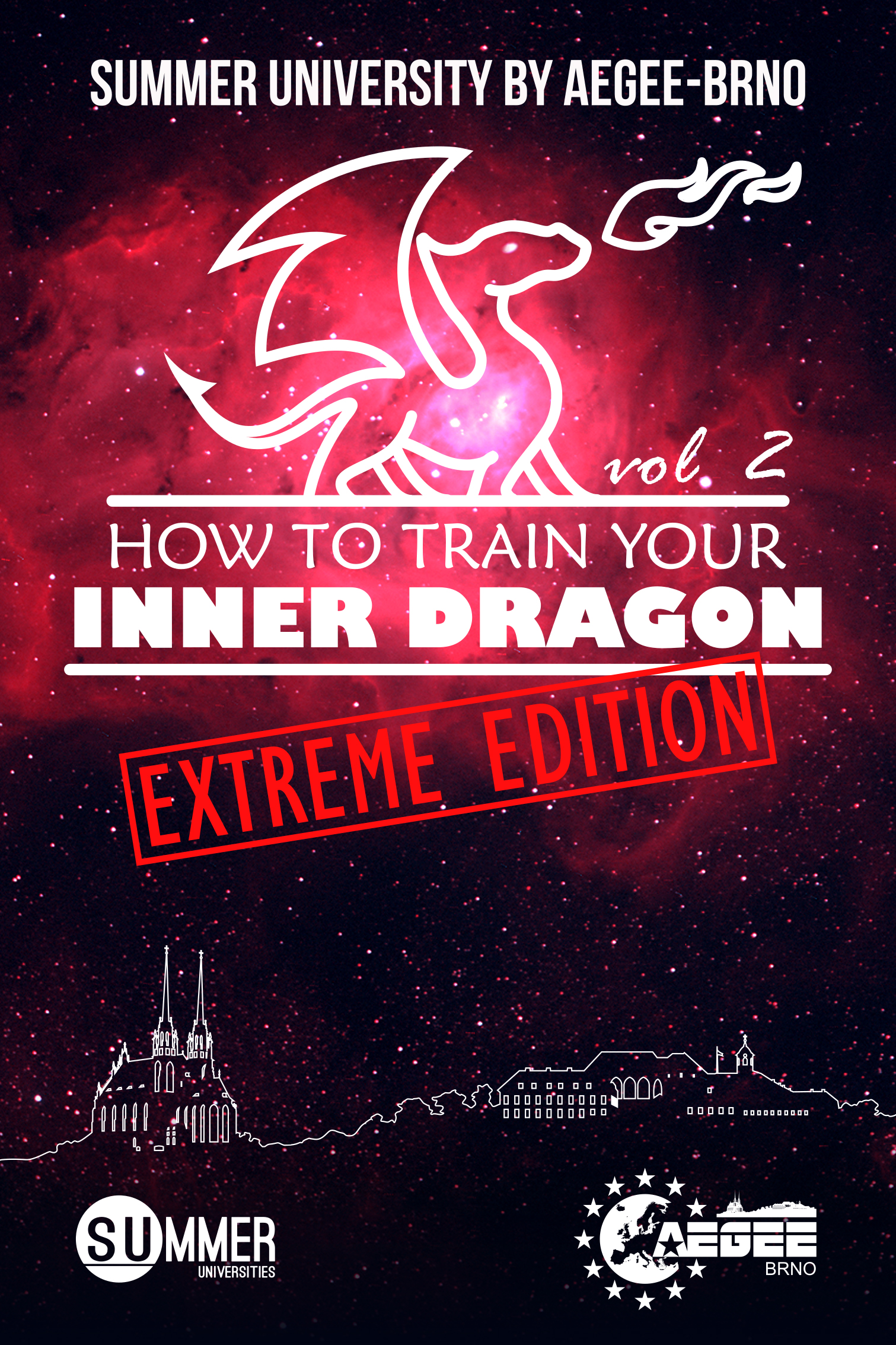 Verknüpfung zum Kalender https://cal.aegee.org/?d=2021-07-29&id=e947872a-224b-4c84-8d25-90a541a9ec4-25&cal=0
💾︎iCalendar Datei https://cal.aegee.org/c/0/e947872a-224b-4c84-8d25-90a541a9ec4-25.ics
Kalender OMS