CROss your Borders
From the capital of the country situated below the Medvednica mountain, all the way to the fresh Adriatic Sea you will experience one of the most diverse adventures of your life! And not only that - you will learn how to live an inclusive, active life and self-reflect amazing ideas that could shake things up in your own world.
"CROss your Borders" is an opportunity to take some small, but meaningful for yourself and your well-being, while enjoying the summertime and connecting with different young people.
During these 9 days, 20 borderless souls will be visiting the city of million hearts - Zagreb, walk through beautiful Croatian nature, explore the old town on the seaside and enjoy the sun. And we will not stop here - you will learn about your mental, social and physical health, experience different kinds of workshops, enter the world of self-development, enjoy an active lifestyle, live healthy and take care of each other. This special adventure is your chance to self-reflect and improve! You will get to know Croatian culture and language while tasting our typical dishes. But don't think that's it, we also prepared exciting parties for you, you just have to prove you are fearless enough to handle them! ;)
Optional programme: Visit to national park Kornati / Telascica
Theme: Mind-blowing combination of self-development mindset and active lifestyle brought to you through inclusive, thematic activities while exploring the wonderful nature of Croatia. Accomodation: Gym.
When 🕗︎Saturday, August 21, 2021 at 08:00 - Sunday, August 29 at 18:00 GMT+2
🌐︎ Location Zagreb φ45.82639 λ15.97319
URL https://my.aegee.eu/summeruniversity/cross-your-borders
Organizer AEGEE-Zagreb, crossyourborders.su21@gmail.com
Categories: Mental health and SU
Created on Thursday, May 06, 2021 at 23:30:58 GMT+2
Last modified on Wednesday, August 25, 2021 at 13:29:54 GMT+2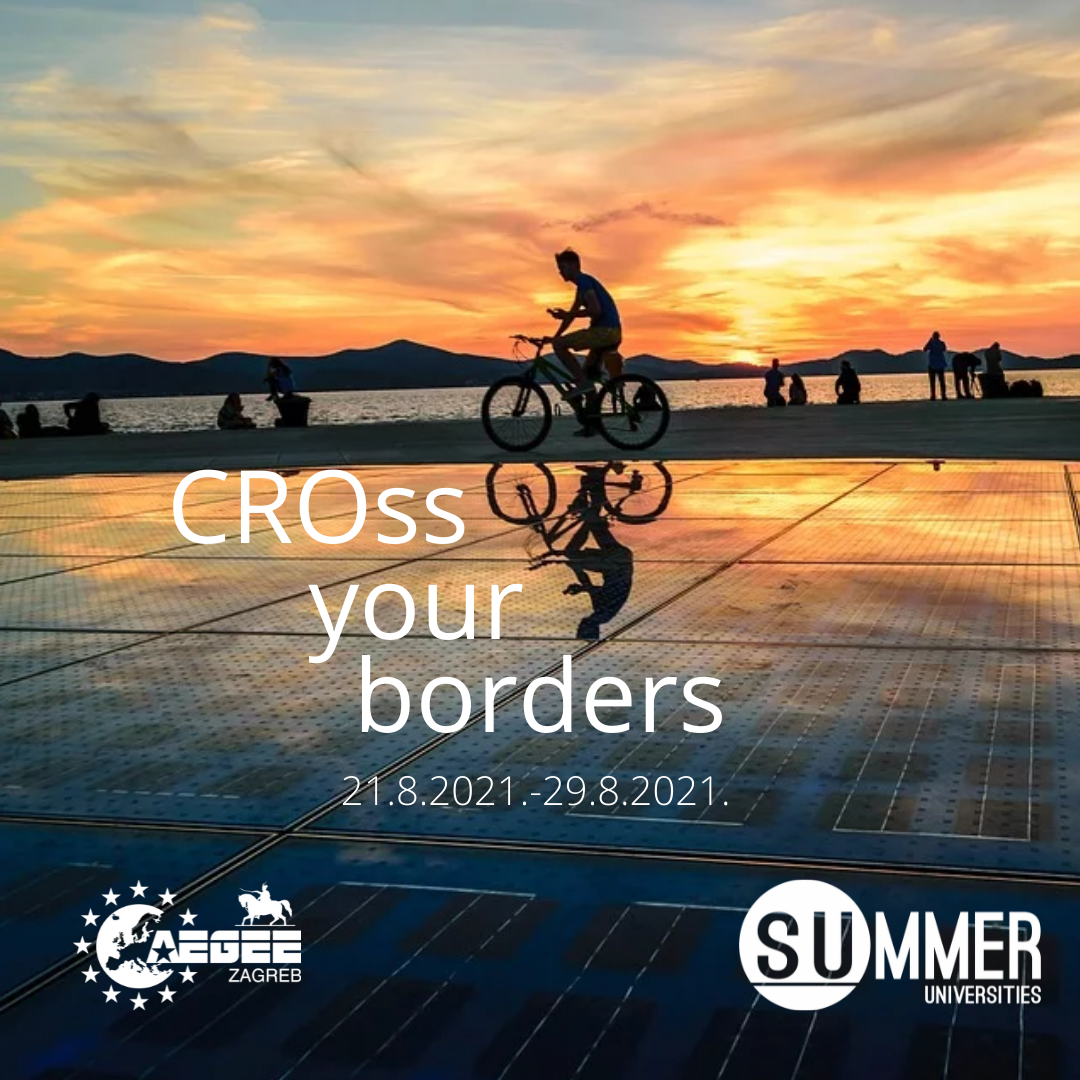 Link to calendar https://cal.aegee.org/?d=2021-08-21&id=e947872a-224b-4c84-8d25-90a541a9ec4-28&cal=0
💾︎iCalendar file https://cal.aegee.org/c/0/e947872a-224b-4c84-8d25-90a541a9ec4-28.ics
Calendar OMS