How slow can you go?
Hold your horses! 🐎💨 Do you know how fast you were going? ✋ As it's your first time getting caught speeding in life, you are required to participate in a slow-life community SU in beautiful Estonian nature.

Ever wanted to yeet away your social media accounts and run away to the forest? 📲🏃‍♂️🌲Let's slow down together whilst surrounded by pure nature and local community – embracing the whisper of the Nordic forests 🌳🌿, walking along the sandy beaches of the Baltic Sea 🏖 experiencing real community culture picking berries and making potato salad together 🥔🥗🏘. Broaden your horizons with many thematic and cultural workshops and practice those skills straight away. All the while meeting other active, sociable and nature-loving AEGEEans! 🥳

Our adventures begin in the historic University city of Tartu ⛲️ where we'll get to know each other, do the legendary Tartu pubcrawl and be introduced to the basics of SLOW lifestyle. 🐢

Following that we will enjoy a few days in the summer capital Pärnu ⛱ among the sunny beaches and fields, experiencing the daily life of a local family in their country home. Imagine waking up to the smell of your grandmother's pancakes and homemade jam made from berries you picked yesterday.. Imagine getting your thumbs green together in the garden, working while singing folk songs and finally making traditional potato salad for your uncle's birthday party in the evening and celebrating with song and dance! 🏕

We will conclude our travels in Tallinn with final slow-workshops in the old town, exploring thrift shops and enjoying vibrant capitallife. Run away with us to go back to the roots, connect with the community and slow it down while having the time of your life. 🤗💚
Optional programme: AHHAA interactive science museum in Tartu
Canoe raft picnic in Pärnu
Minigolf in Pärnu
Adventure park in Pärnu
Theme: We will learn how to be mindful with spending our own psychologial and natural resources by learning about Slow lifestyle (Slow Food, Slow Tourism, Slow Conflicts, Slow Fashion etc). The SU is built to reconnect and reflect with yourself, your community and nature. Accomodation: Gym, one night of camping.
Кога 🕓︎сряда, 20 юли 2022 г., 16:00 ч. - вторник, 02 август, 11:00 ч. Гринуич+2
🌐︎ Място Tartu φ58.45237 λ26.7394
Интернет адрес https://my.aegee.eu/summeruniversity/howslowcanyougo
Организатор aegeetartusu@gmail.com, AEGEE-Tartu
Категории: Leisure и SU
Въведено на четвъртък, 10 февруари 2022 г., 21:29:27 ч. Гринуич+1
Последна промяна на неделя, 03 юли 2022 г., 20:32:46 ч. Гринуич+2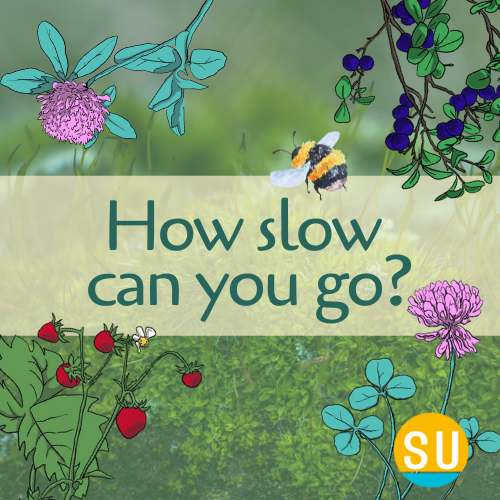 Връзка към календара https://cal.aegee.org/?d=2022-07-20&id=e947872a-224b-4c84-8d25-90a541a9ec4-35&cal=0
💾︎iCalendar файл https://cal.aegee.org/c/0/e947872a-224b-4c84-8d25-90a541a9ec4-35.ics
Календар OMS