SUncity Vol:5 WANDERLUST
⭐️Let yourself to feel the best summer vibe ever! SUncity, our legend, has been creating best memories to AEGEEans for more than 20 years!

👀 Be a witness to greatness by swimming in incredible bays 🌊, making crazy parties 🍾, visiting countless ancient heritage🏛, flying all over Marmaris 🪂 and even more!

🌅 We know that these beautiful lands has been graced with countless cultures since the beginning of time. Now you have an opportunity to take the most fun time travel ever! Do not try to resist your "wanderlust" and join us this summer for the best experience of your life!

⚓️ You will take a journey from the times when money was invented to today's time, you will experience the peak of history and entertainment while taking a time travel from the times of legendary kings to modern days.

🐋Swim in Karaburun, a frequent destination for sailors, have a glass of wine in Şirince, famous for its vineyards, mingle with history and art in Kemeraltı, an old trade center, and disguise as an ancient god in Agora. Take the city under your feet in the elevator. Search for mermaids in Foça! Also you have a chance to see one of the most beautiful natural places in the world, with BIRD EYE VIEW in Marmaris 🤩
Optional programme: Parasailing + Boat Tour
Theme: We have chosen this theme because we believe that everyone should be aware of our mother nature and how we protect for the next generations. Our theme is sustainability this year and we believe that sustainability is knowing that the sun will rise tomorrow and living accordingly. Natural and cultural values of yesterday should reach next generations as they come to us from the past. Our aim is to ensure that by raising awareness because a society grows great when old people plant trees, the shade of which they know they will never sit in. Accomodation: Hostel.
Кога 🕚︎неделя, 10 юли 2022 г., 11:00 ч. - понеделник, 25 юли, 11:00 ч. Гринуич+2
🌐︎ Място İzmir φ36.91879 λ28.18165
Интернет адрес https://my.aegee.eu/summeruniversity/suncity-vol5-wanderlust
Организатор AEGEE-Izmir, eren.geckin@aegee.eu
Категории: SU и Sustainability
Въведено на петък, 11 февруари 2022 г., 17:05:29 ч. Гринуич+1
Последна промяна на четвъртък, 07 юли 2022 г., 09:28:29 ч. Гринуич+2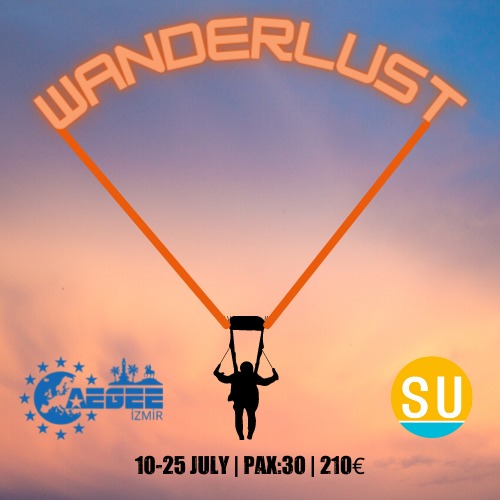 Връзка към календара https://cal.aegee.org/?d=2022-07-10&id=e947872a-224b-4c84-8d25-90a541a9ec4-39&cal=0
💾︎iCalendar файл https://cal.aegee.org/c/0/e947872a-224b-4c84-8d25-90a541a9ec4-39.ics
Календар OMS