The dark side of the SUn
Are you ready to discover the Dark side of the SUn?! If you think it does not exist, you will
definitely change your mind during our SU!!! After each day under shining and bright sunrays,
spent discovering the Tuscan cities, countryside and beaches, when the sun goes down you will
explore its dark part: dancing all night long with an amazing multicultural group, playing
challenging games where you will learn mysterious legends, experiencing adventures with your
team that will kick you out of your comfort zone! Are you brave enough to experience all of
this?!
The BRIGHT side

Arts and history: amazing city tours and museum visits led by super expert organizers of AEGEE-
Firenze! When the group will leave Firenze, you will know every secret of this stunning and

world-wide famous town!!!
Nature and Beaches: you will enjoy the amazing Tuscan landscapes in our countryside house
and dive in the blue water of the Tuscan coast and Elba island!!!
Italian Culture: with our language tips you will learn how to flirt in Italian and with our cooking
workshops you will conquer the heart of your crush with delicious tiramisù or lasagna!!!
But after an intensive day, you will need some more energy to discover...
The DARK side
Parties: we will dance in the best clubs of Firenze all night long!!!
Night city tour and room crawl: immersed in the moonlight with your team, you will have to
solve mysteries and fulfill tasks that will push you out of your comfort zone!!!
European night: an incredible night with drinks and the food from all over Europe... Just a few
of us will remember all of it!!!
Seaside nights: sitting all together on the beach and charmed by the sound of the waves we will
enjoy incredible fireworks sparkling into the darkness. The AEGEE Spirt will spread in the
Tyrrenian sea when we will have a romantic midnight bath under the moonlight.
---
Can you desire more? An Italian midsummer dream is waiting for you: AEGEE-Firenze is going
to help you to dive in the Italian lifestyle under a sun ready to warm your body, soul and heart.
You cannot miss this charming chance to change your life!!! As AEGEE-Firenze, we're quite sure
that the event it's going to be unforgettable and we'll do our best to make it real!!!
Optional programme: Boat trip to Elba island
Theme: Discovery of Tuscan cities, history, tradition, sea and food Accomodation: Student dorm, countryside house, gym.
When 🕕︎Friday, August 06, 2021 at 18:00 - Monday, August 16 at 12:00 GMT+2
🌐︎ Location Firenze φ43.78459 λ11.25439
URL https://my.aegee.eu/summeruniversity/the-dark-side-of-the-sun
Organizer AEGEE-Firenze, su.firenze@gmail.com
Categories: Local culture and SU
Created on Thursday, February 11, 2021 at 22:12:29 GMT+1
Last modified on Monday, July 12, 2021 at 08:18:26 GMT+2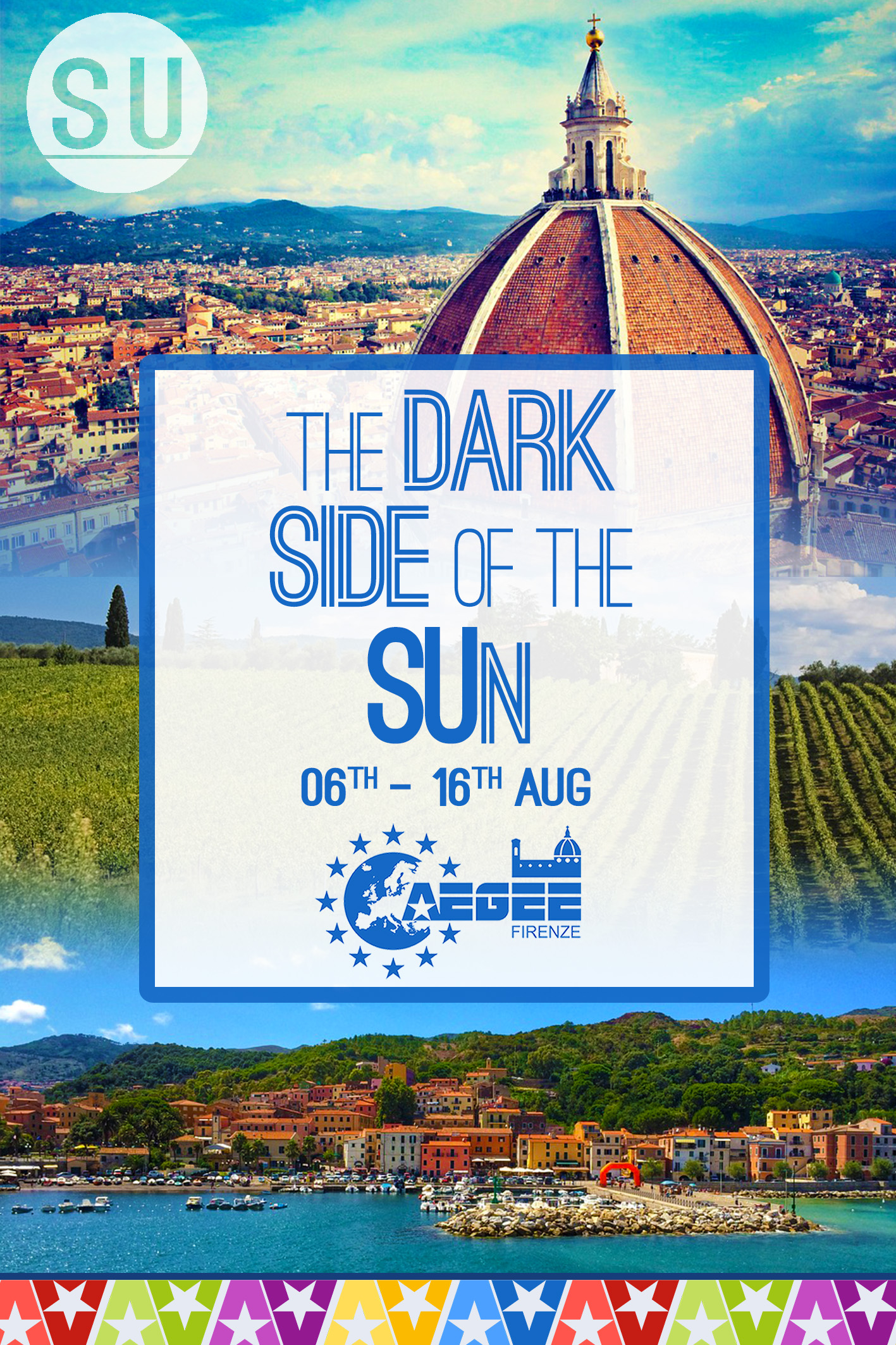 Link to calendar https://cal.aegee.org/?d=2021-08-06&id=e947872a-224b-4c84-8d25-90a541a9ec4-5&cal=0
💾︎iCalendar file https://cal.aegee.org/c/0/e947872a-224b-4c84-8d25-90a541a9ec4-5.ics
Calendar OMS