De-Tech - Can you survive 10 days in the greenest region of Europe without your phone?
Join us for the De-Tech Event hosted by AEGEE Pescara, where you can disconnect from the digital world and immerse yourself in the natural beauty and cultural heritage of Abruzzo, the greenest region of Europe. Here are some unique points that make this event a must-attend:

🛥️ Enjoy many sea activities during the day, swim and get tend thanks to Abruzzo Mediterranean weather.

🏰 Explore incredible medieval castles such as Rocca Calascio, rated as one of the top 10 castles by National Geographic.

❤️ Visit Scanno lake, our unique heart-shaped lake and send love to the world

🚲 Cycle along the Trabocchi coast, one of the most beautiful spots on the Adriatic Coast.

🏞️ Discover the hidden gems of old towns that are even older than Rome and get amazed by their traditions and stories.

🐻 If you're lucky you can spot Marsicano bears and Appenninico wolves, two of the most fascinating animals that inhabit the region.

😴 Sleep in a gymnasium located in an ancient and magical town, just 5 minutes walking from the sea.

🍝 Join our workshop to learn how to make homemade pasta and visit the typical Abruzzo cake factory called "Pan Ducale."

🚂 Take a day trip on the "Transiberiana d'Italia," one of the most fascinating railway trails in the world with panoramic views and stops in ancient villages.

🍷 Have you ever seen a free wine fountain? Have fun with it tasting our local red wine (Montepulciano d'Abruzzo, among the finest Italian wines).

📸 Participate in our photography contest by taking one picture per participant. Since our team includes a film director and a professional photographer, we will also offer a workshop on eco-sustainability, photography, and the not use of technologisation.

🎉 Last but not least: party, party, and party next to the sea at night. We'll have the traditional folklore night, European Night, 90's night, and much much more!

Please note that the event fee covers two meals per day, which includes traditional and delicious food from our region, rated among the most appreciated Italian cuisine by Michelin. We will make our best to alternate active days with trips and visits to chill days at the beach. Additionally, since it is an event based on the non-use of technology, every participant will only be allowed to use their own phone for one hour per day, typically between 7 and 8 pm. One main phone will be with the organizers at all times in case of emergencies. Don't miss this unique opportunity to explore Abruzzo and disconnect from the digital world. Submit your application today by emailing aegee-pescara@aegee.eu!

We are aware Abruzzo is not on your booklist. We call it the "Tuscany who didn't believe in itself". Join us, we'll do our best to make you have the SU of your life.
Optional programme: Rafting in Tirino river
Theme: Which is the best way to explore a local culture? A group of international people, a great spirit of adventure, curiosity and escape from the daily routine. Turn off your smartphones and computers, close the social networks: socialize with local people and connect yourself with the enviroment! Accomodation: Gym.
Кога 🕛︎събота, 17 юни 2023 г., 12:00 ч. - понеделник, 26 юни, 12:00 ч. Гринуич+2
🌐︎ Място Pescara φ42.502 λ14.17891
Интернет адрес https://my.aegee.eu/summeruniversity/detechsu
Организатор AEGEE-Pescara
Категории: Local culture и SU
Въведено: сряда, 15 февруари 2023 г., 23:50:38 ч. Гринуич+1
Последна промяна: събота, 17 юни 2023 г., 15:20:24 ч. Гринуич+2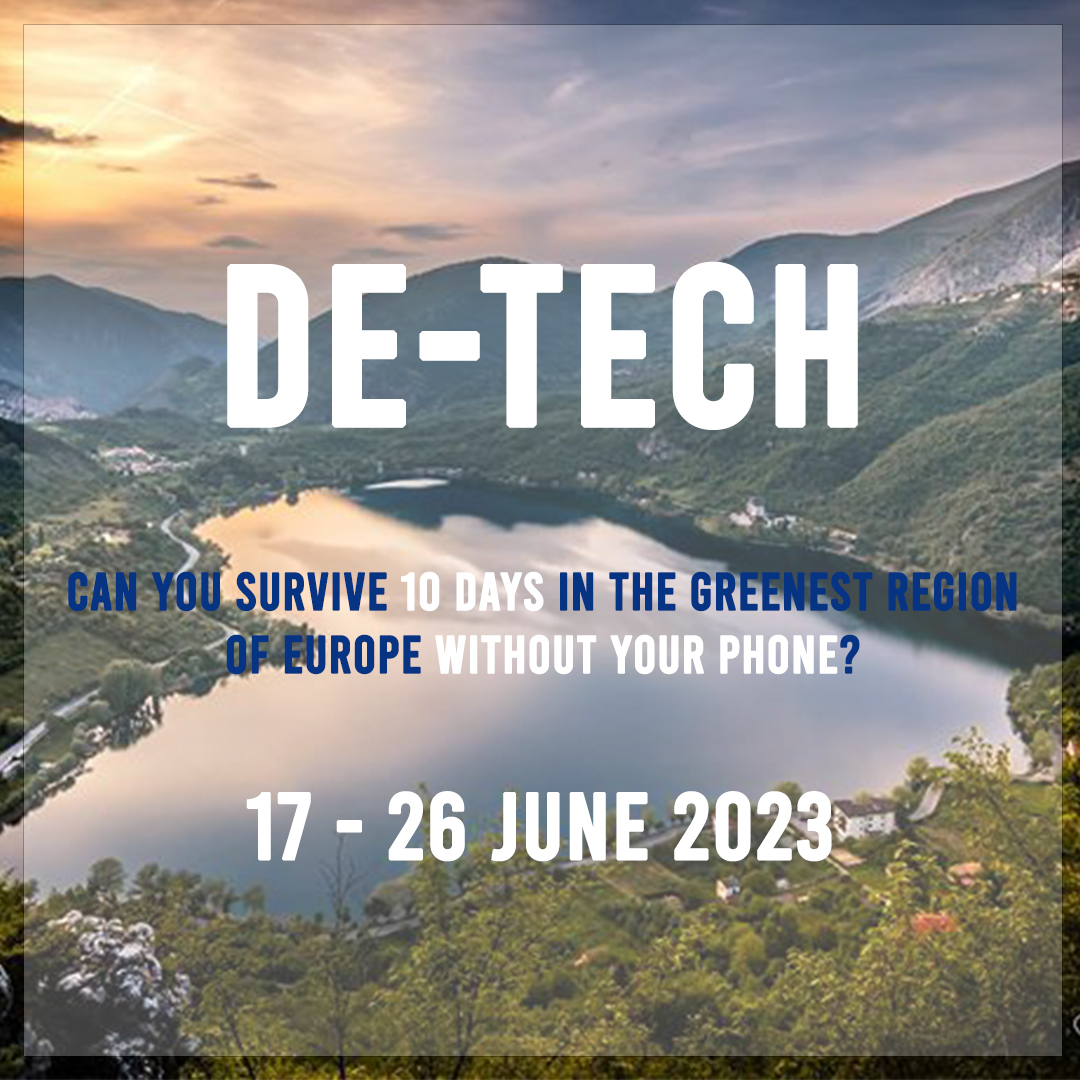 Връзка към календара https://cal.aegee.org/?d=2023-06-17&id=e947872a-224b-4c84-8d25-90a541a9ec4-62&cal=0
💾︎iCalendar файл https://cal.aegee.org/c/0/e947872a-224b-4c84-8d25-90a541a9ec4-62.ics
Календар OMS