SUn Rises from East
🦀Get ready to join the most exciting SU of the year! A journey that will last in your memory for years to come: A-Ankara presents "The SUn Rises From East!", where we're taking things to the next level with a jam-packed schedule of activities that you won't find anywhere else! 🔥

🍀Our journey starts at The heart of Anatolia, and "the Cradle of Civilizations" where thousands of years of history melt into one pot: the current capital of Ankara.

🌈You will also have the opportunity to explore the rich history and stunning landscapes of these amazing cities, from the ancient ruins of 🐴Troy 🐴 in Çanakkale to the beautiful beaches of Balıkesir. 🏝️

🗿 During this event, you will have the chance to participate in a variety of activities, including museums🏛️, parties 😎, camps 🏕️, workshops🏺, boat trips 🚤, bays 🏖️that are like coming out of paradise, and much more, and our beautiful voyage will end at the Island of Gökçeada. 🌴

So what are you waiting for? Join us for this incredible festival and discover the true spirit of Turkey. Join us now and get ready to embark on an unforgettable adventure!
Optional programme: Yacht tour, ceramic workshop
Theme: Middle and West Anatolia have a great history from the first ages until the foundation of modern Turkey. We are going to discover this unique heritage of history and then enjoy the great nature of Aegean sea with our participants. Accomodation: hostel, camping.
Wann 🕚︎Montag, 04. September 2023 um 11:00 - Montag, 18. September um 11:00 MESZ
🌐︎ Ort Ankara,Turkey φ40.04897 λ32.81769
URL https://my.aegee.eu/summeruniversity/sun-rises-from-east
Veranstalter summeruniversity2023@gmail.com, AEGEE-Ankara
Kategorien: Local culture und SU
Erstellt am Sonntag, 19. Februar 2023 um 16:34:46 MEZ
Letzte Änderung am Samstag, 12. August 2023 um 18:29:27 MESZ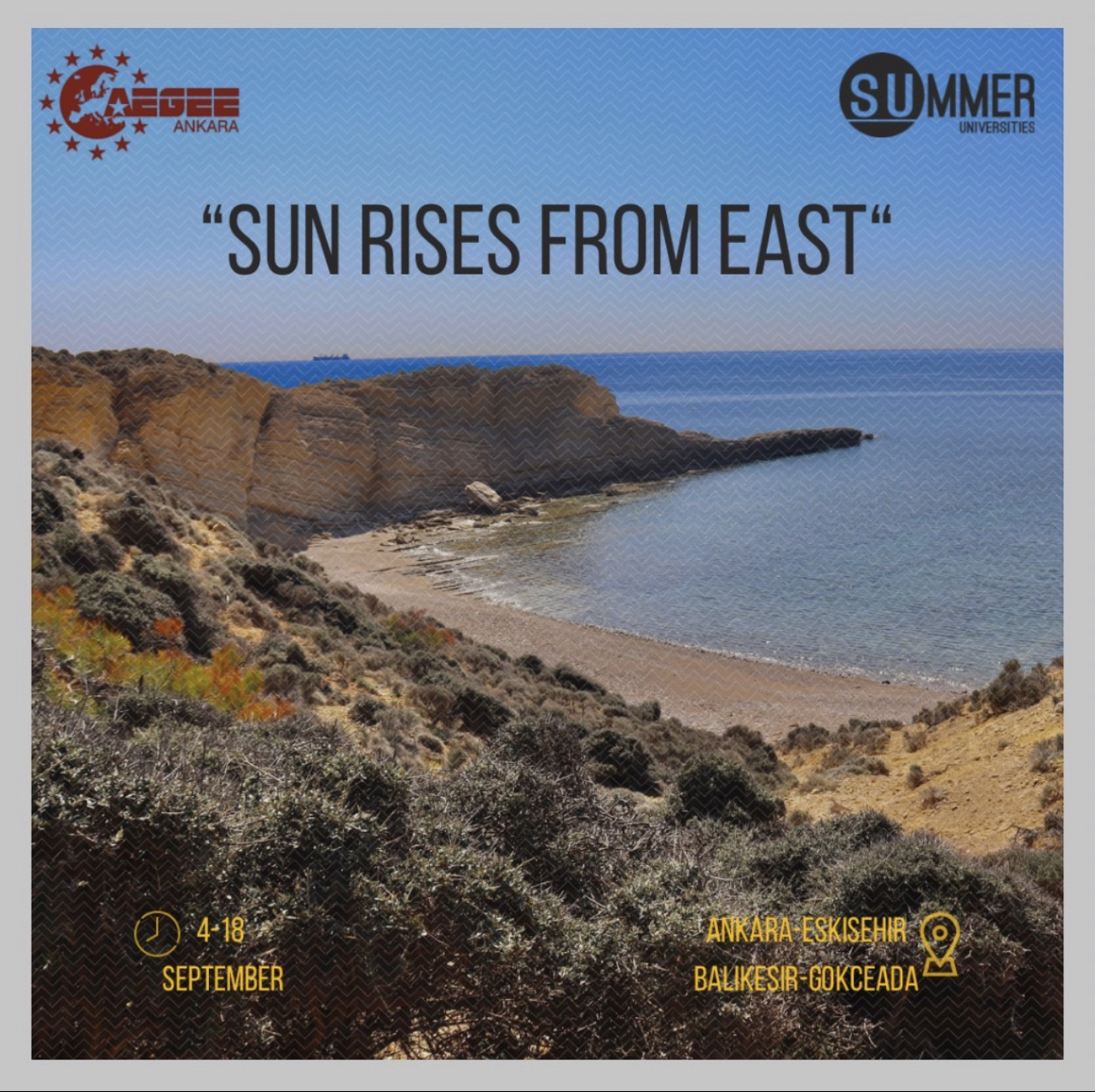 Verknüpfung zum Kalender https://cal.aegee.org/?d=2023-09-04&id=e947872a-224b-4c84-8d25-90a541a9ec4-72&cal=0
💾︎iCalendar Datei https://cal.aegee.org/c/0/e947872a-224b-4c84-8d25-90a541a9ec4-72.ics
Kalender OMS