SUncity Vol:6 SELCOUTH
Tradition has not been broken. Here is our lovely SUncity☀️, HERE WE GO!!!

Are you looking for a SU including amazing beaches 🏖️, crazy parties🍾, ancient cities🏛️, unforgettable memories and more…If your answer is "Yes", you are in the right place.

You will swim with fish like a dolphin🐬, you will learn everything about Ephesus as if you lived in there, you will dance at nights like there is no tomorrow💃, you will fly all over Marmaris like a bird🪂 and most importantly you will have memories impossible to forget like you belong here.

Izmir is our home. You may not know anything about here yet, but when you come, you will be enchanted 😍 and you will feel it's your home too. It's a "Selcouth" effect. Enjoy it!!!
Optional programme: Boat Tour, Safari Tour and Parasailing
Theme: Our theme is sustainability. We have choosen this theme because we think sustainability can significantly improve the quailty of life for all animal species, inclouding human. In the past, throughout our lives and in the future, we have to be intertwined with nature and be in peace. Protecting and not harming it will both make our present life better and leave a much better world for the next generations. This is our biggest aim. This purpose will enable us to protect our natural and cultural values from the past and convey them to the future. Sustainability is the only thing that will make the Sun rise brighter tomorrow, the air we breathe cleaner and the generations that will be born smile more happily. Let's build a strong future together!!! Accomodation: Dormitory, hostel.
Wann 🕚︎Donnerstag, 20. Juli 2023 um 11:00 - Donnerstag, 03. August um 11:00 MESZ
🌐︎ Ort Izmir φ38.42662 λ27.13063
URL https://my.aegee.eu/summeruniversity/suncity-vol6-selcouth
Veranstalter AEGEE-Izmir, zekeriya.uranli@aegee.eu
Kategorien: SU und Sustainability
Erstellt am Sonntag, 19. Februar 2023 um 19:20:04 MEZ
Letzte Änderung am Donnerstag, 08. Juni 2023 um 22:41:28 MESZ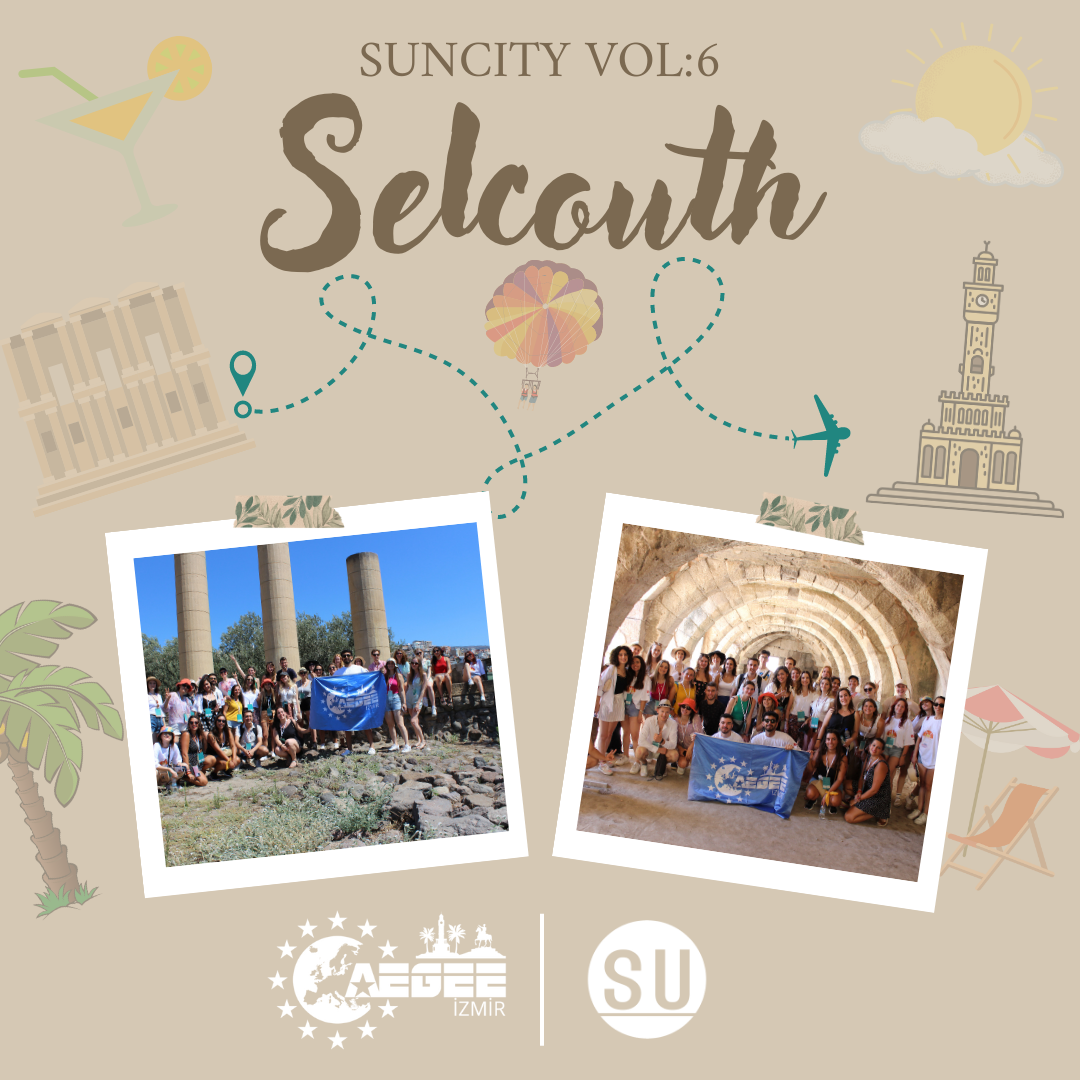 Verknüpfung zum Kalender https://cal.aegee.org/?d=2023-07-20&id=e947872a-224b-4c84-8d25-90a541a9ec4-73&cal=0
💾︎iCalendar Datei https://cal.aegee.org/c/0/e947872a-224b-4c84-8d25-90a541a9ec4-73.ics
Kalender OMS