Mysteries of Centuries Vol.2
The year is 657 BC, Ancient Greek legend King Byzas founded the city Byzantium. The year is 196 AD, the city of Byzantium is besieged by the Roman Empire. The year is 330, Emperor Constantine refounded the city and named it New Rome. The year is 1453, the great city Costantinople is under siege by Ottoman Empire. And now, the year is 2023, the city of Istanbul, a timeless beauty with lots of memories. 🌉

Legend says that one day, 30 young and fearless AEGEEans will set foot on this land 🏃🏻. In only 10 days, they will walk all over the city with laughter. They never sleep. They never get tired. Do you think you are one of these heroes?🦹🏻 If so, join us in our adventure this summer and witness the amazing history of this ancient city, learn about its stories, mysteries and legends🕯️.While you are captivated by Istanbul's atmosphere in mornings, you will see really crazy parties at night🍹. The next day you are partying on a boat in the middle of Bosphorus ⛴️. Don't worry though , if you can't handle all this chaos, you will have a chance to catch your breath on a camping trip by the seaside 🏕️. So what are you waiting for? Hit that 'Apply' button and let the madness begin! 💥
Optional programme: Topkapı Palace, Basilica Cistern, Turkısh Bath
Theme: İstanbul is a city rich with history. It has many historical landmarks which also have interesting legends to their names such as Galata Tower, Basilica Cistern, Maiden Tower etc… Our theme is to explore and learn these legends and their mysteries of our lovely city with our participants. Accomodation: Hostel, Camp.
Кога 🕚︎петък, 21 юли 2023 г., 11:00 ч. - понеделник, 31 юли, 11:00 ч. Гринуич+2
🌐︎ Място Istanbul φ41.03702 λ28.98507
Интернет адрес https://my.aegee.eu/summeruniversity/mysteries-of-centuries-vol2
Организатор AEGEE-Istanbul, summeruniversity@gmail.com
Категории: Local culture и SU
Въведено: неделя, 19 март 2023 г., 14:57:31 ч. Гринуич+1
Последна промяна: понеделник, 12 юни 2023 г., 16:14:32 ч. Гринуич+2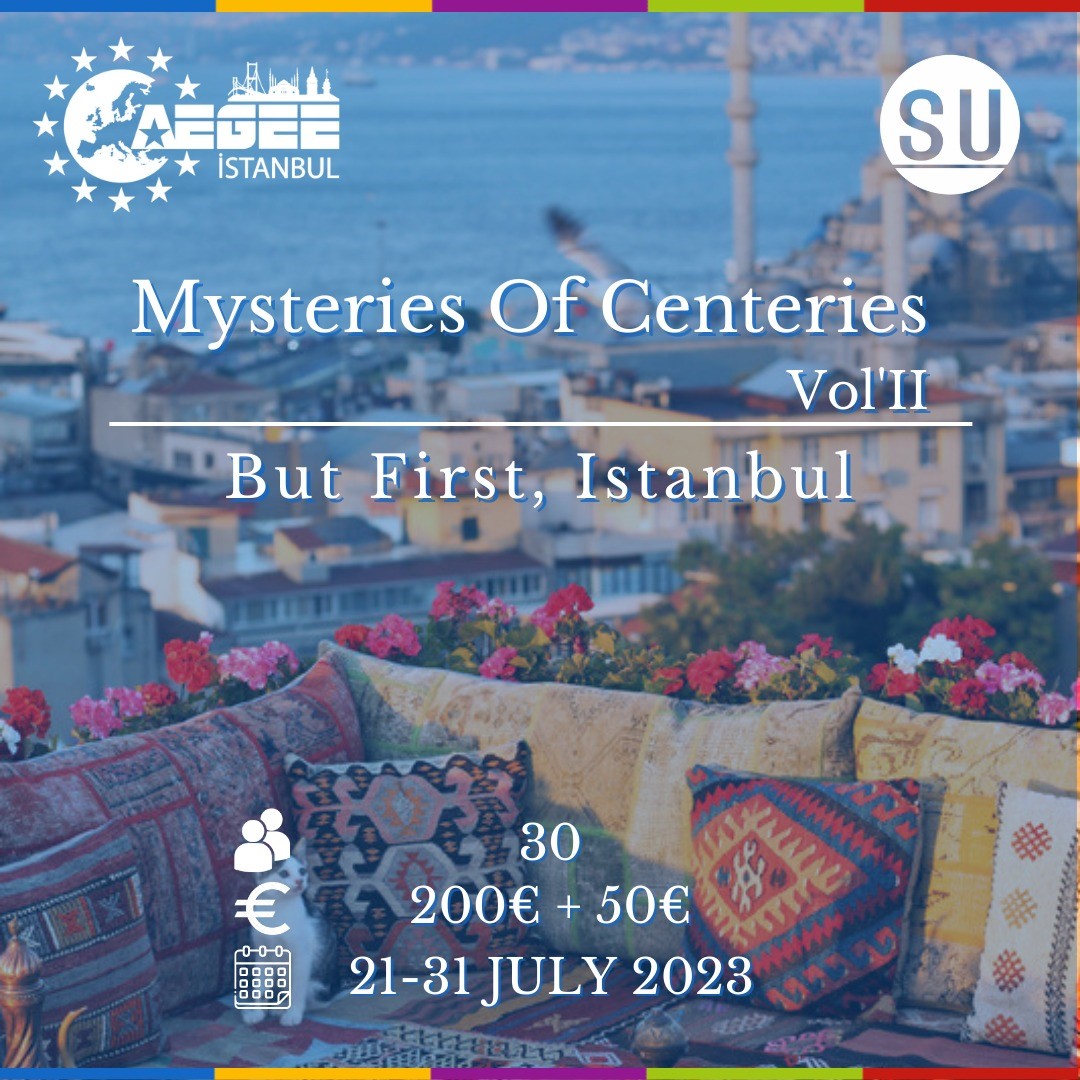 Връзка към календара https://cal.aegee.org/?d=2023-07-21&id=e947872a-224b-4c84-8d25-90a541a9ec4-79&cal=0
💾︎iCalendar файл https://cal.aegee.org/c/0/e947872a-224b-4c84-8d25-90a541a9ec4-79.ics
Календар OMS