SUpercultural Antalya Vol.II
🧳Open the doors of Antalya, which has hosted many civilizations for centuries.

🌇Swim on the beaches while exploring the ancient city of Phaselis and the ancient city of Olympos

🌇Witness Antalya's past at the Antalya museum

🚤Take a boat tour and swim in the bays where Aphrodite washed her hair. Experience the Dim Stream's freezing cold water.👽

🏰 Explore the Alanya castle and the red tower! Take your place on this fun and historical journey, Let's discover the hidden beauties of Antalya together.

💃🕺Enjoy social activities in Kaleiçi: Antalya's old town.

🏊🏼‍♂️Join the private pool party and show yourself in the games , get ready to enjoy the sun on the most beautiful beaches of Antalya!🏖️
Optional programme: Private boat tour
Theme: 🗣In our Turkish education, you will learn words and sentences that you can use in daily life in Turkey. And of course we will give you tasks where you need to use these words. 🎉 🏰🏯 The story of Phaselis and the ancient city of Olympos.
We will introduce the old rulers in the Antalya museum. You will see the civilizations and their ruins that lived in Antalya. 🤵🏻👰🏻You will experience the pre-marriage and pre-engagement customs of Turkish culture in the Turkish night. 👨🏻‍🍳You will learn how to make Turkish kebab, Adıyaman Çiğköfte (veganfree) and Turkish embroidery at the workshops. Accomodation: hostel.
Wann 🕚︎Montag, 17. Juli 2023 um 11:00 - Montag, 31. Juli um 11:00 MESZ
🌐︎ Ort Antalya φ36.90366 λ30.65814
URL https://my.aegee.eu/summeruniversity/supercultural-antalyavol2
Veranstalter AEGEE-Antalya
Kategorien: Local culture und SU
Erstellt am Mittwoch, 22. März 2023 um 04:37:16 MEZ
Letzte Änderung am Donnerstag, 27. Juli 2023 um 14:22:41 MESZ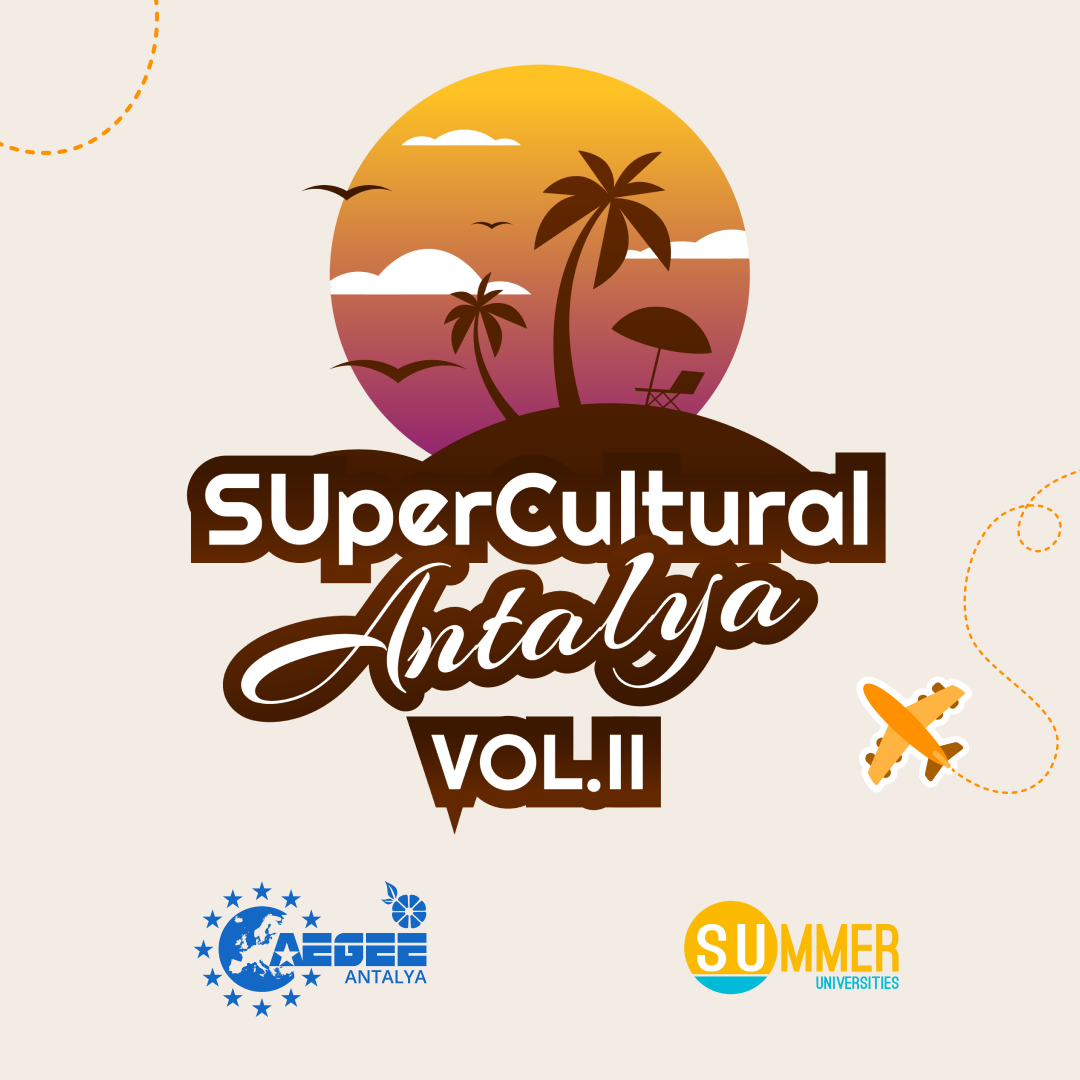 Verknüpfung zum Kalender https://cal.aegee.org/?d=2023-07-17&id=e947872a-224b-4c84-8d25-90a541a9ec4-80&cal=0
💾︎iCalendar Datei https://cal.aegee.org/c/0/e947872a-224b-4c84-8d25-90a541a9ec4-80.ics
Kalender OMS