NWM Tartu: ReThink, ReFresh, ResTart(u)! 🔥
Dear AEGEEans,

Have you heard that the Network Meetings season is finally open? 🥁 And what better way to engage with it than by being part of one! 🤩 For all who have missed our amazing physical events, the AEGEE energy and our creative sessions, we have great news - our long-awaited NWM Tartu: ReThink, ReFresh, ResTart(u) is here! 🎉

The topics of our sessions include:

🔥 How to do Strategic Planning;

🔥 HR, how to move from recruiting to nurturing your members' journey in AEGEE;

🔥 How to recruit new members and engage the current ones;

🔥 Finding ways to collaborate between participants and Locals; and of course

🔥 Sharing best practices among participants.


📆 WHEN: 7th - 10th of April 2022

📍 WHERE: Tartu, Estonia

💰 PRICE: 65 euros

🥰 PARTICIPANTS: 20 AEGEEans

⏳ NEW DEADLINE TO APPLY: 7th March 2022

What is included?
- Amazing accommodation in a hostel 🏩
- 2-3 tasty meals per day 🤤
- Great social programmes 💃🏼🕺🏻
- Awesome AEGEE spirit of the organisers 👯‍♂️

Please make yourself familiar with the COVID-19 regulations in Estonia - you can find them via this link: https://kriis.ee/en . To travel to Estonia, as per the country's regulations, you will need a vaccination certificate (either EMA-approved or any of those not EU-recognised, but recognised in the country of departure, including Sputnik V, Sputnik Lite, Sinovac, Sinopharm etc). COVID-19 recovery certificates are also accepted.


So are you as excited to attend a physical AEGEE event again as much as we are? 🥳 Or do you just really want to enhance your knowledge on these topics? 🧠 If so, join us in Tartu to ReThink, ReFresh and ResTart(u)! 🌠

P.S. If you find yourself in need of financial support, you can apply to the AEGEE Social Responsibility Fund: https://bit.ly/AEGEE-SRF
This event was organized by Network Commission and AEGEE-Tartu.
When 🕓︎Thursday, April 07, 2022 at 16:00 - Sunday, April 10 at 12:00 GMT+2
🌐︎ Location Tartu, Estonia φ58.3808 λ26.72289
URL https://my.aegee.eu/events/nwm-tartu-rethink-refresh-restartu-
Organizer AEGEE-Tartu, Network Commission
Category: Network meeting
Created on Thursday, February 17, 2022 at 20:17:44 GMT+1
Last modified on Wednesday, March 02, 2022 at 08:58:11 GMT+1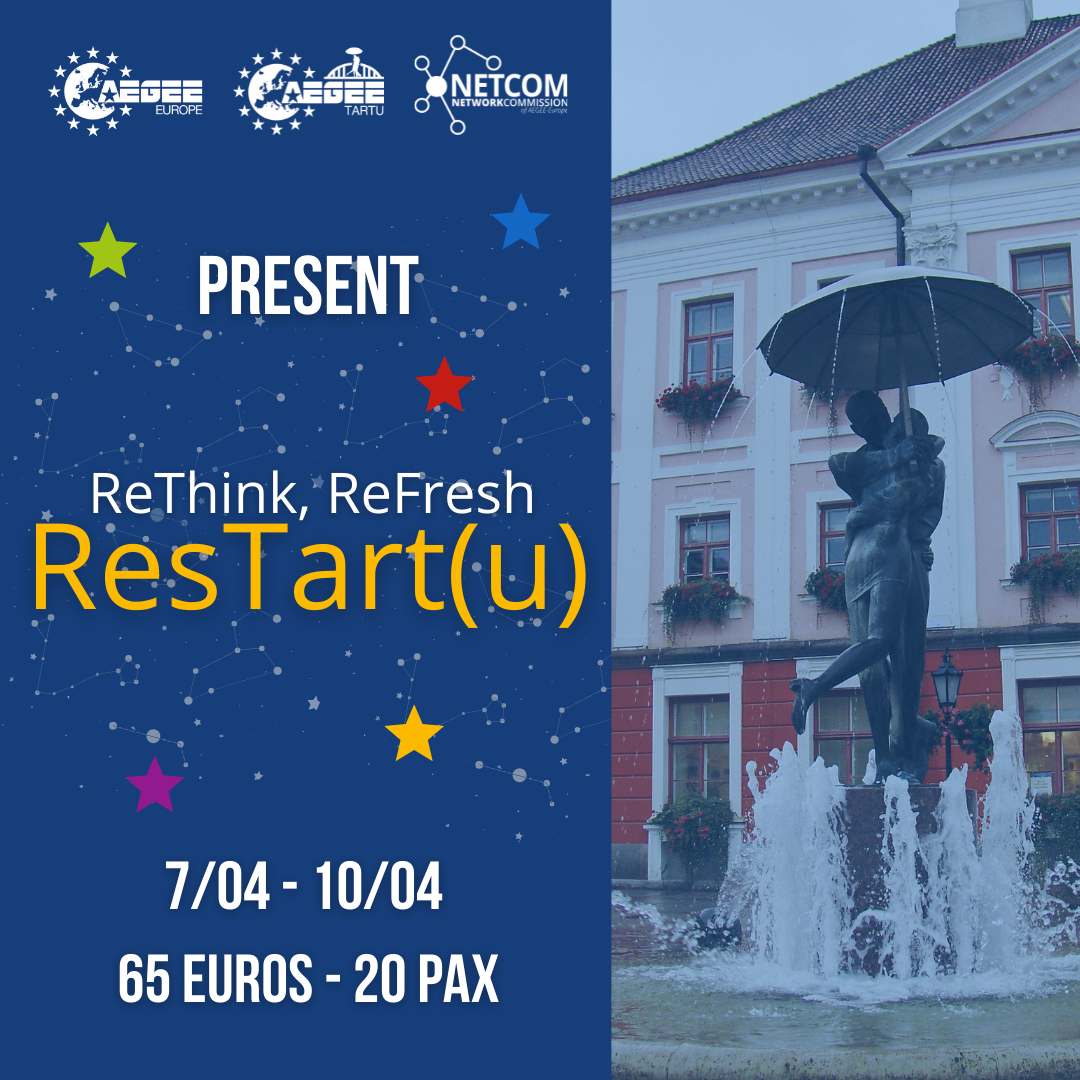 Link to calendar https://cal.aegee.org/?d=2022-04-07&id=e947872a-224b-4c84-8d25-90a541a9ec6-169&cal=0
💾︎iCalendar file https://cal.aegee.org/c/0/e947872a-224b-4c84-8d25-90a541a9ec6-169.ics
Calendar OMS