Sexperience in Amsterdam
We come across insinuations of sex every day in the songs we listen to, the movies and series we watch and in our relationships. For something so present, we barely discuss it in-depth and with Amsterdam being known for its different view towards sex with our red-light district, this city is the perfect place to start our journey in becoming more aware.
Sex is an important emotion that has biological, psychological and social explanations. We can look at science, our society and our different views to become more aware of our norms and values.

This weekend you'll participate in workshops to learn about the red light district and sexology from experts. Moreover, there will be discussions to share our opinions, so we can all learn from each other!! And after our brain is full of so many new insights we'll go explore the city and do fun and creative activities for a good laugh like dick pimping! (https://www.pimpgips.nl/voorbeeld-foto-s)

And since the event will take place in Amsterdam you'll also come in contact with the Dutch culture! There will be a Dutch dinner and we'll go explore the nightlife in Amsterdam. And of course, the event cannot take place without a European Night! In the end, you'll be closer to being a sex expert and you'll have had an amazing adventure! Hopefully, you won't fall in love with the city too much, because then you'll definitely have to come back!

--------------------------------------------------------------------------------------------------------
On this website you can check what is required to enter The Netherlands from the country that you are traveling from: https://reizentijdenscorona.rijksoverheid.nl/en/bestemming. We ask you to follow the regulations stated here and besides that we ask you to do an antigen test before arriving at the event.

We also ask all the participants to adhere to the national regulations regarding the COVID situation. We will inform you about the regulations before the event starts.
Кога 🕛︎петък, 22 април 2022 г., 12:00 ч. - понеделник, 25 април, 12:00 ч. Гринуич+2
🌐︎ Място Amsterdam φ50.85033 λ4.35171
Интернет адрес https://my.aegee.eu/events/sexperience-in-amsterdam
Организатор AEGEE-Amsterdam
Категория: Cultural
Въведено: сряда, 23 февруари 2022 г., 18:23:54 ч. Гринуич+1
Последна промяна: вторник, 29 март 2022 г., 21:14:19 ч. Гринуич+2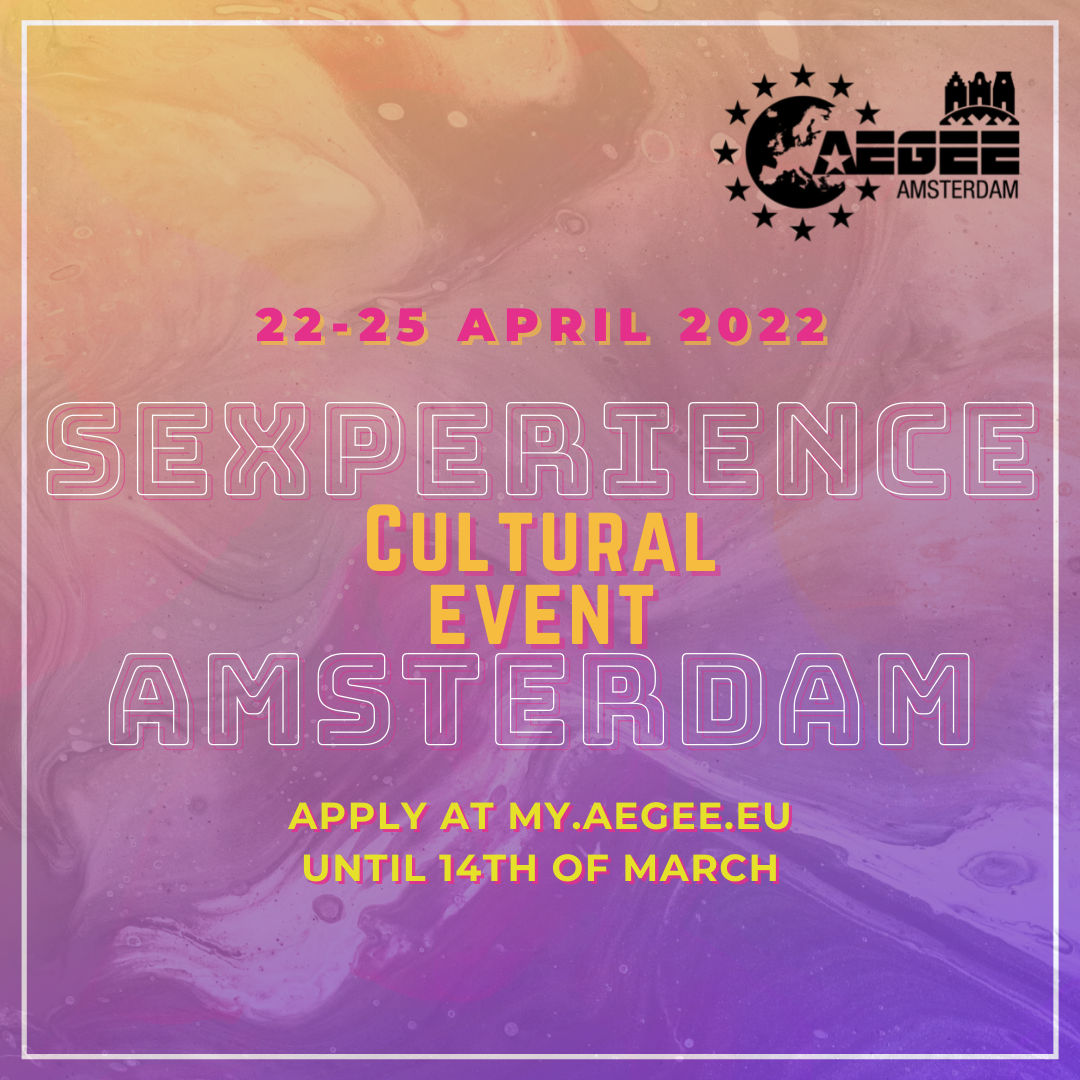 Връзка към календара https://cal.aegee.org/?d=2022-04-22&id=e947872a-224b-4c84-8d25-90a541a9ec6-170&cal=0
💾︎iCalendar файл https://cal.aegee.org/c/0/e947872a-224b-4c84-8d25-90a541a9ec6-170.ics
Календар OMS