NWM Bergamo - Bring Gaze on Yourself
Join us in the city of the Thousands for an amazing weekend full of activities, new friends and great atmospheres!

Bergamo is ready to welcome you back to its wonderful city for the Network Meeting: Bring Gaze on Yourself (BGY, see what we did there? 😎 ✈️ )

📍WHERE: Bergamo, Italy

📅WHEN: 22.04.2022- 25.04.2022

💰FEE: 50€

🤝 PARTICIPANTS: 20

This Network Meeting will focus on: Human Resources, Fundraising and Strategic planning!

Discover how to make your local and your members strive with sessions on:

📌 Recruitment

📌 How to get your members active and enhance their skills

📌 How to approach fundraising and make the best use of it

📌 Strategic planning

📌 Case studies, interactive activities, and facilitating cooperation among locals

What else to expect:

🔹 2 Meals a day

🔹 Accommodation

🔹 Unforgettable social program

🔹 New friends from all over Europe


HOW TO APPLY?

➡️ You can apply on MyAEGEE!

🚨 APPLICATION DEADLINE: 18/03/2022 at 23:59 CET


COVID RULES:

To attend this event you have to be fully vaccinated/recovered AND you have to take an antigen test or PCR test prior to the event, with it being a maximum of 48 hours old at the start of the event.
Regarding the regulations in Italy, please take a look here: https://www.salute.gov.it/portale/nuovocoronavirus/dettaglioContenutiNuovoCoronavirus.jsp?lingua=italiano&id=5411&area=nuovoCoronavirus&menu=vuoto

The rules in Italy require a EU Digital COVID Certificate. Two types of covid passes are now recognised in Italy:
- Basic Green Pass: certifies vaccination, recovery from COVID-19 or a negative result for a molecular or antigenic swab;
- Super Green Pass: only certifies vaccination or recovery from COVID-19.

Access to certain activities and services requires a Super Green Pass.

As the Covid rules are often subject to change, please check the official website mentioned regularly to be aware until arrival.


Don't hesitate to contact us for any questions: maria.pandolfi@aegee.eu or info@aegeebergamo.eu
This event was organized by Network Commission and AEGEE-Bergamo.
Wann 🕕︎Freitag, 22. April 2022 um 18:00 - Montag, 25. April um 15:00 MESZ
🌐︎ Ort Bergamo φ45.69581 λ9.66984
URL https://my.aegee.eu/events/nwm-bergamo---bring-gaze-on-yourself
Veranstalter AEGEE-Bergamo, Network Commission
Kategorie: Network meeting
Erstellt am Dienstag, 01. März 2022 um 18:15:27 MEZ
Letzte Änderung am Donnerstag, 17. März 2022 um 09:22:24 MEZ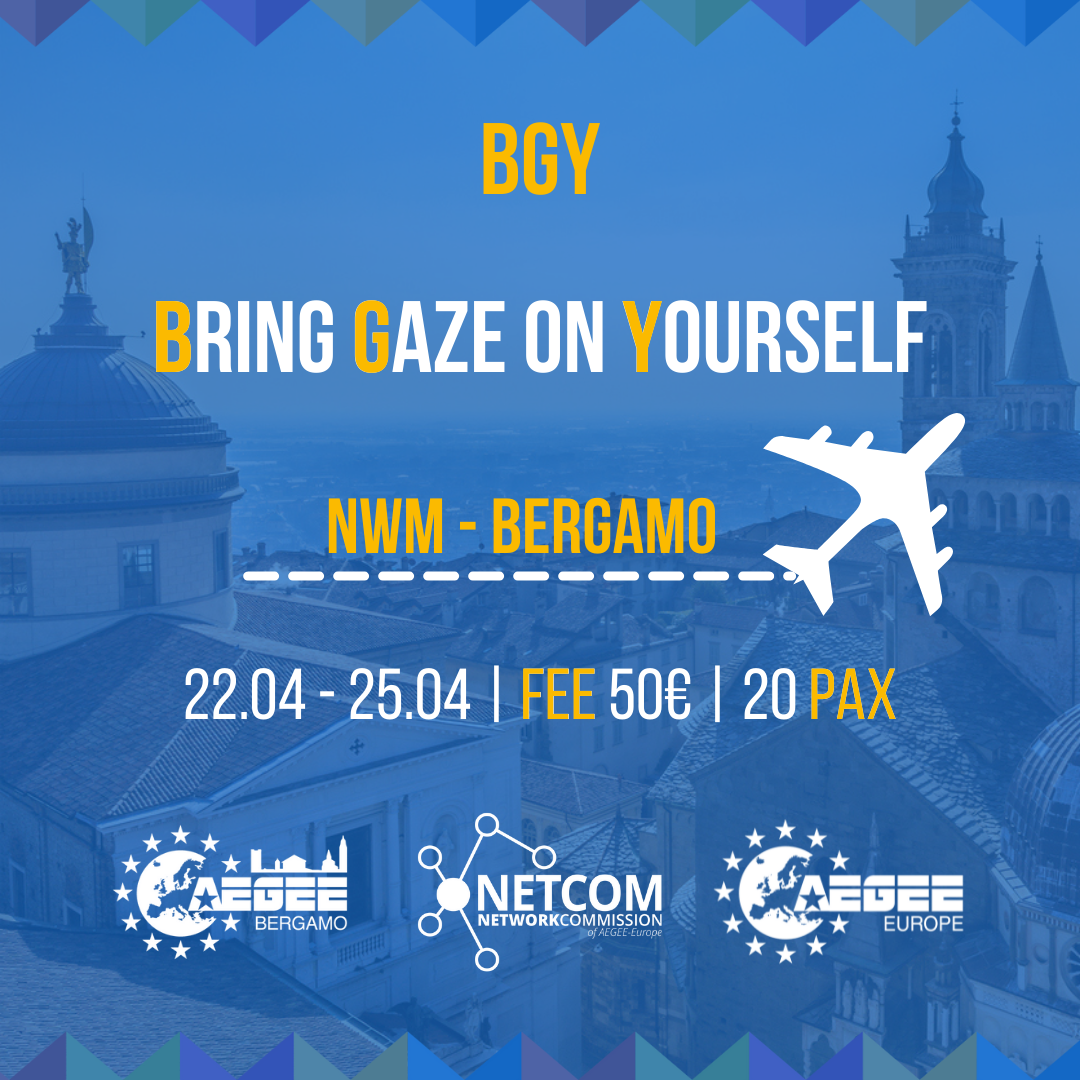 Verknüpfung zum Kalender https://cal.aegee.org/?d=2022-04-22&id=e947872a-224b-4c84-8d25-90a541a9ec6-174&cal=0
💾︎iCalendar Datei https://cal.aegee.org/c/0/e947872a-224b-4c84-8d25-90a541a9ec6-174.ics
Kalender OMS