NWM Iasi - Reach New Heights
Join the Network Meeting Iasi 2022 to shape the future of Europe by chiming into discussions, learn the fundamentals of managing your locals, get to know others and share best practices, and most importantly, having lots of fun doing it!

Event Details:

💶Fee: €60

📅Date: 1/12-4/12/22

📍Hosting local and location: AEGEE-Iasi

🧭Primary focus: Networking and developing your skills

🕺# of pax: 25


Join us along to:

🔹 Learn more about AEGEE on the European level

🔸 Learn how to manage fundraising events and financial management

🔹 Get to know the beautiful city of Iasi with city tour and games and network with your fellow AEGEEans!

🔸 Learn how to do Local Promotion

🔹 A beginner's workshop for Human Resources!

🔸 Attend a discussion on the future of A-Europe

🔹 A beginner's workshop for Human Resources!


What does the fee include?

🔵 2 meals a day

🟣 Accommodation

🔴 City tour, 4 days of fun full of social activities that will make you feel like a true AEGEEan!

🟣 A European Night!

🔵 Meeting with your fellow members in your Network area; and possibly more!


COVID-19 Disclaimer: COVID-19 remains a threat and therefore it is essential that each participant takes their own personal responsibility in avoiding travelling with the virus and spreading it at the event. It is encouraged to wear masks in confined spaces and to wash hands regularly. Santitiser will be provided for use and all surfaces will be cleaned regularly and safety will be at the forefront of all activities. For more information: https://docs.google.com/document/d/1-gHRlXbIFGsYG0wh4Fx34_pjYbMELdH06phuWpP8aSk/edit
Deadline for the applications: 3/11/22
This event was organized by Network Commission and AEGEE-Iaşi.
Кога 🕛︎четвъртък, 01 декември 2022 г., 12:00 ч. - неделя, 04 декември, 12:00 ч. Гринуич+1
🌐︎ Място Iasi φ47.18303 λ27.58633
Интернет адрес https://my.aegee.eu/events/nwm-iasi
Организатор AEGEE-Iaşi, Network Commission
Категория: Network meeting
Въведено: понеделник, 05 септември 2022 г., 18:46:01 ч. Гринуич+2
Последна промяна: петък, 04 ноември 2022 г., 18:23:38 ч. Гринуич+1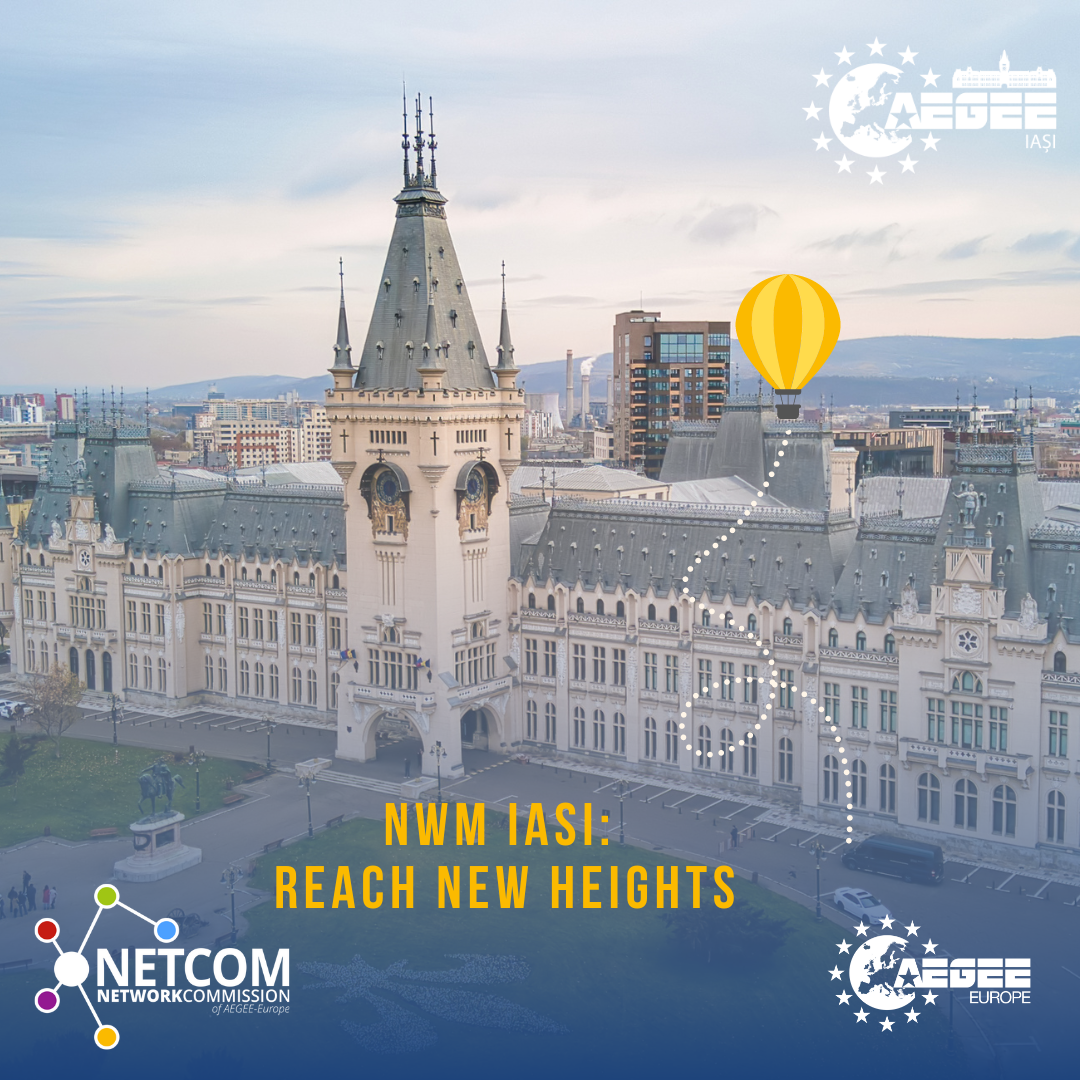 Връзка към календара https://cal.aegee.org/?d=2022-12-01&id=e947872a-224b-4c84-8d25-90a541a9ec6-188&cal=0
💾︎iCalendar файл https://cal.aegee.org/c/0/e947872a-224b-4c84-8d25-90a541a9ec6-188.ics
Календар OMS