NYE Warm Winter Shivers II: TrUdi Edition
⚠⚠⚠⚠⚠ WE HAVE AN IMPORTANT ANNOUNCEMENT TO MAKE ⚠⚠⚠⚠⚠


Hi! It's us again 🎉, yeah, we know you missed us, AEGEE-Udine is back now with AEGEE-Treviso in a smokin' New Years Eve like no other! ☃❄

You have to be: brave, extremely energetic, and ready to see a lot of beatiful places!
Visiting the beauty of northern Italy such as Treviso, Trieste and Udine.

Wouldn't it be nice to come to meet new people for the New Year in one of the most densly hystorically packed places on the planet?
Even Napoleon came by Friuli! There's so much beauty we need to share it!

These will be some of our focuses 🔎

Visiting all the places around our first location and many others on the way! 📷

Cooking workshop: learn how to prepare the best foods of our regions! (It's not just pizza..) 👩‍🍳

Ice skating - a tradition on new year's holidays! ⛸️

Visiting Udine - the little Venice on land 🏰

Visiting Trieste - the multicultural italian city on the seaside 🌬

Visiting Treviso - the land of Tiramisù and Prosecco™

And, if you want, snowshoeing!

Partying like crazy! 🎊

What you need 📑

Tons of energy!

Sleeping bag

Warm clothes and shoes

Typical food/drink for the european night 🍹🍷

We will be staying in Trichiana, in Veneto's mountains, and Cervignano in Friuli in a scout base! 🏞


Why are you waiting??
Don't tell us you've got something better to do! There's nothing better to do than enjoying the new year's eve with the AEGEEan spirit! 😜
Optional programme: Snowshoeing
This event was organized by AEGEE-Udine and AEGEE-Treviso.
Wann 🕐︎Donnerstag, 29. Dezember 2022 um 13:00 - Donnerstag, 05. Januar 2023 um 10:00 MEZ
🌐︎ Ort Trichiana φ46.0748 λ12.13208
URL https://my.aegee.eu/events/nye-tr-udi-warm-winter
Veranstalter AEGEE-Treviso, AEGEE-Udine
Kategorie: Cultural
Erstellt am Montag, 24. Oktober 2022 um 23:24:01 MESZ
Letzte Änderung am Mittwoch, 07. Dezember 2022 um 21:11:14 MEZ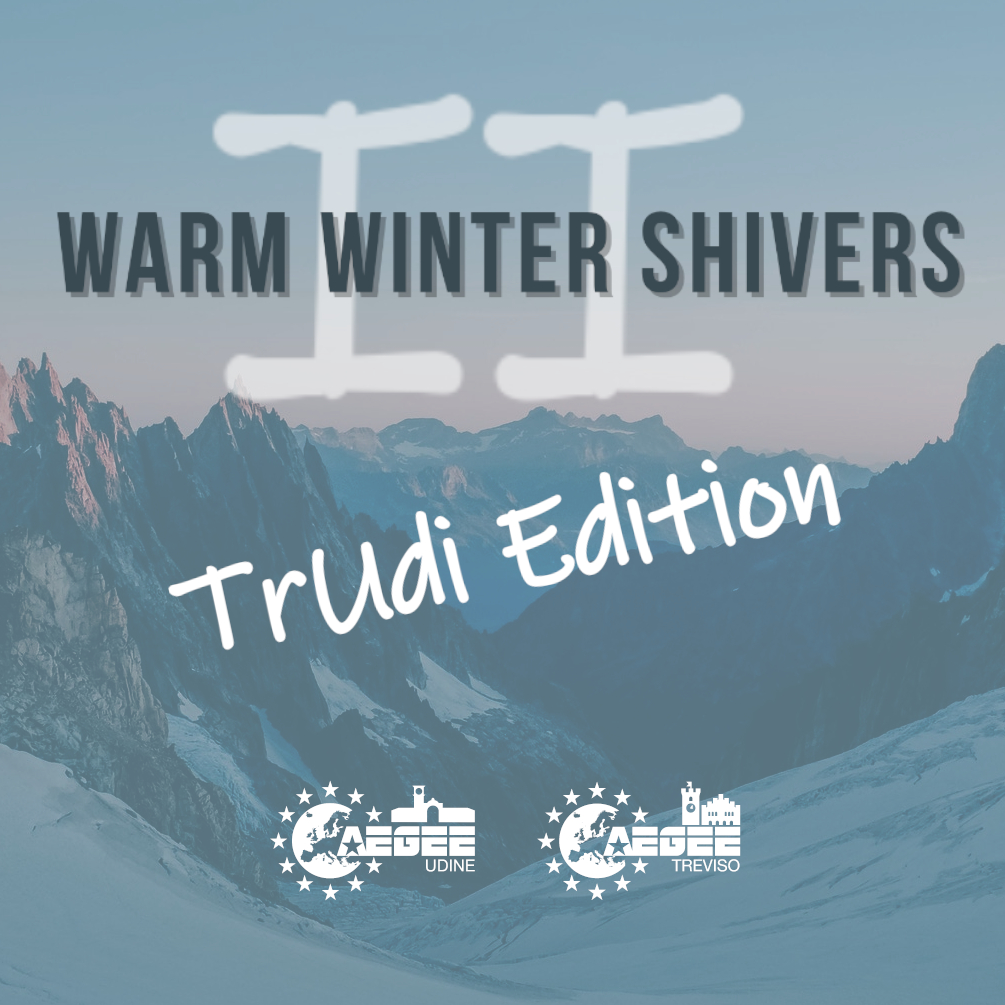 Verknüpfung zum Kalender https://cal.aegee.org/?d=2022-12-29&id=e947872a-224b-4c84-8d25-90a541a9ec6-190&cal=0
💾︎iCalendar Datei https://cal.aegee.org/c/0/e947872a-224b-4c84-8d25-90a541a9ec6-190.ics
Kalender OMS