The Activists Guide to the Galaxy: How to Become a Changemaker
In the beginning the Universe was created. This has made a lot of people very angry and been widely regarded as a bad move - The Hitchhiker's Guide of the Galaxy

In this day and age there seem to be so many things to worry about. Climate change, social injustices, war and so much more. DON'T PANIC!
You want to make a change, but how? Is this something you wonder? Join our event!
AEGEE-Amsterdam and AEGEE-Delft have combined powers to create an event that will teach you how you can make an impact and where to get started. Here's what to expect:

- Workshops on How to be an activist, Becoming the most convincing negotiator, Creating your own parody campaign, and making impact!
- Field trip to the Peace Palace and The Hague
- City Quest in Delft
- Canoeing on the canals of Amsterdam
- European night
- and many more fun games and activities to get to know each other!

So grab your towel and sign-up now for five days (!) of discovering Delft and Amsterdam, all the while learning about how to become politically active and getting to know lots of new fun people from all over Europe!

First, you will arrive in Prinsenstad (prince's city) Delft where we will spend the first two days, after which we will take a day visit to The Hague, the seat of the Dutch government. Then we'll spend the weekend in Amsterdam.

The fee includes 2 to 3 meals a day (lunch is provided on Thursday and Saturday), entrance to the Peace Palace in The Hague, transport between Delft, The Hague, and Amsterdam, a canoeing activity on the canals of Amsterdam, and thematic workshops and activities.

See you soon in Delft & Amsterdam!


You are needed, we are needed, everyone is needed. Here comes everyone - Extinction Rebellion

This planet has—or rather had—a problem, which was this: most of the people living on it were unhappy for pretty much of the time. Many solutions were suggested for this problem, but most of these were largely concerned with the movement of small green pieces of paper, which was odd because on the whole it wasn't the small green pieces of paper that were unhappy - The Hitchhiker's Guide to the Galaxy
This event was organized by AEGEE-Delft and AEGEE-Amsterdam.
Wann 🕛︎Mittwoch, 14. Juni 2023 um 12:00 - Sonntag, 18. Juni um 12:00 MESZ
🌐︎ Ort Delft φ52.0087 λ4.36854
URL https://my.aegee.eu/events/the-activists-guide-to-the-galaxy
Veranstalter AEGEE-Delft, AEGEE-Amsterdam
Kategorie: Cultural
Erstellt am Mittwoch, 26. April 2023 um 17:29 MESZ
Letzte Änderung am Mittwoch, 24. Mai 2023 um 10:31:34 MESZ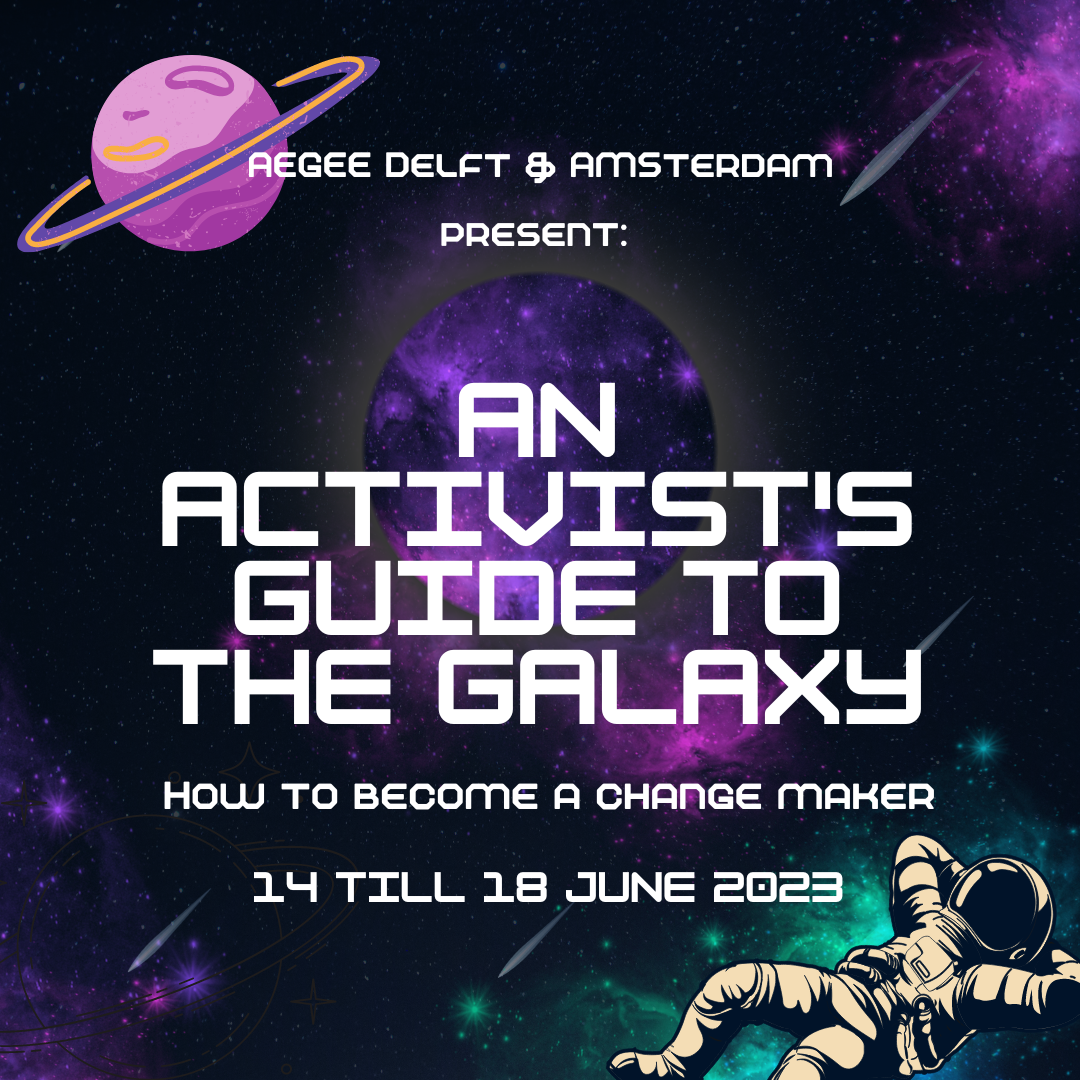 Verknüpfung zum Kalender https://cal.aegee.org/?d=2023-06-14&id=e947872a-224b-4c84-8d25-90a541a9ec6-205&cal=0
💾︎iCalendar Datei https://cal.aegee.org/c/0/e947872a-224b-4c84-8d25-90a541a9ec6-205.ics
Kalender OMS