AEGEE-Poznań birthday event and canoening experience! 🥳🛶
The 32nd Birthday of AEGEE-Poznań is approaching and we would like to invite you all to party with us until dawn!

Get ready for an unforgettable (let's see how the memory holds up 😛) night full of music and dancing, along with a whole weekend of exciting experiences and creating best memories. But that's not all! Beside the birthday party and discovering the city, we are preparing for you something special - day long, exciting canoeing trip 🚣‍♀️🚣

We can already reveal that there will be plenty of attractions to keep you entertained and energized throughout the event. We're preparing many surprises, such as:

discovering beautiful city of Poznań 🌇🐐

pub crawl 🍸🍹

theater workshop 🎭

sign language workshop 🫢

beer yoga 🍻

birthday party 🤩

and of course our special canoeing trip 🛶

Do you want to experience the most unforgettable party of this summer? Do you want to discover Poland and city of Poznań? Are you active and enjoying canoening? Or maybe you have never done it and you want to try it out in a positive AEGEE crowd? In any case, if you still want to feel amazing AEGEE-spirit this summer (but maybe didn't have enough free time to join any SU 🤭) then our event is for you!
Кога 🕒︎петък, 11 август 2023 г., 15:00 ч. - понеделник, 14 август, 12:00 ч. Гринуич+2
🌐︎ Място Poznań φ52.40803 λ16.93539
Интернет адрес https://my.aegee.eu/events/aegee-poznan-birthday-event-and-canoening-experience-
Организатор AEGEE-Poznań
Категория: Cultural
Въведено: неделя, 25 юни 2023 г., 11:06:21 ч. Гринуич+2
Последна промяна: неделя, 16 юли 2023 г., 19:20:33 ч. Гринуич+2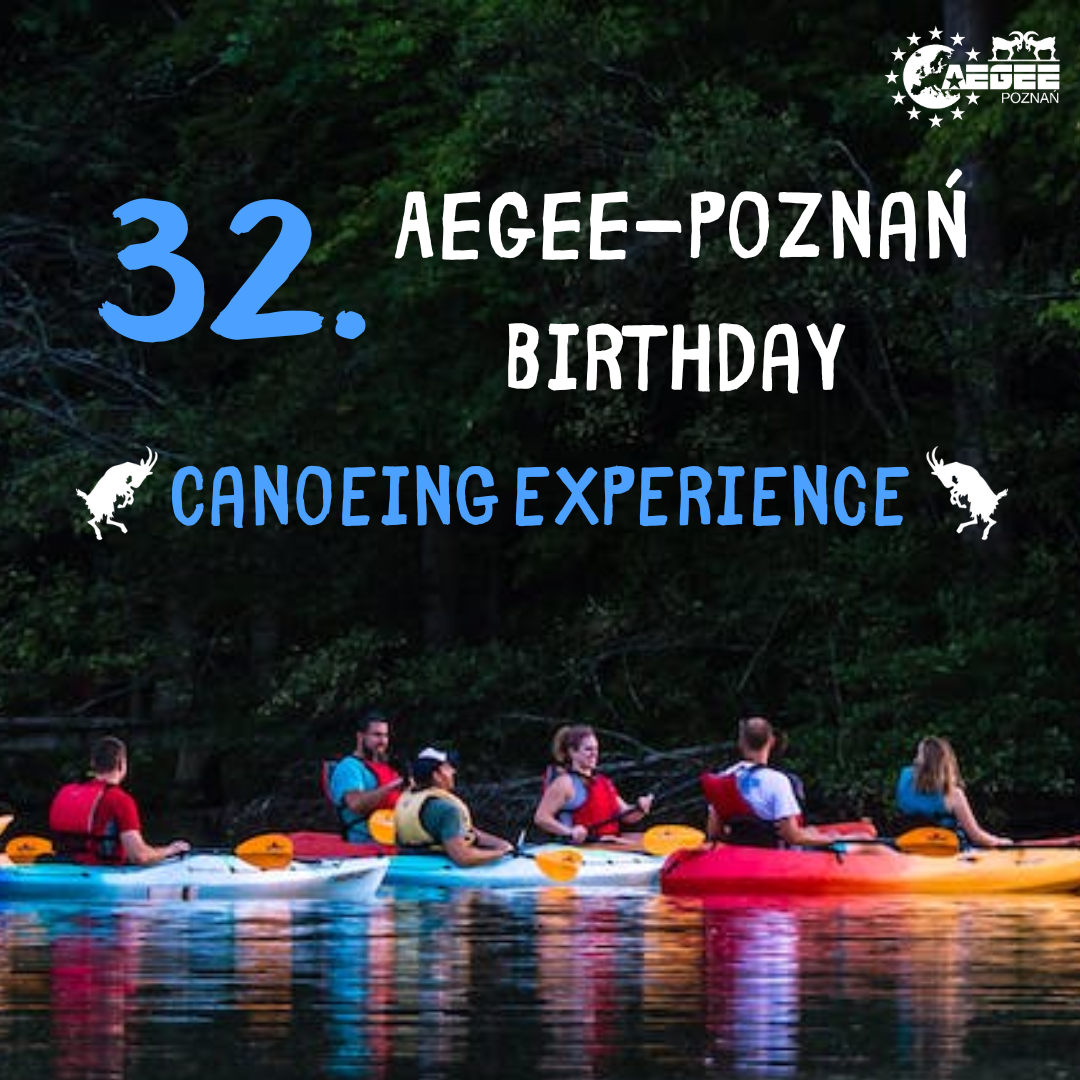 Връзка към календара https://cal.aegee.org/?d=2023-08-11&id=e947872a-224b-4c84-8d25-90a541a9ec6-210&cal=0
💾︎iCalendar файл https://cal.aegee.org/c/0/e947872a-224b-4c84-8d25-90a541a9ec6-210.ics
Календар OMS