Beyond Boundaries: Challenging Privilege and Understanding Intersectionality
AEGEE-Osnabrück invites you to a thought-provoking weekend that aims to explore the complex issues surrounding privilege and intersectionality.
Two workshops will let you dive deep into the intricate dynamics of privilege and its intersection with various aspects of our identities.
Engage in stimulating discussions, connect with like-minded individuals, and broaden your understanding of privilege and intersectionality. Together, let's create a space where everyone's voices are heard, and where we actively work towards dismantling systemic barriers.

To round it out we have planned a thrilling line-up of social events:

🥾 an adventurous hike through Osnabrück's surroundings 🏞️
🏃🏼‍♀️🏃🏻‍♀️ a tour of the city's best bars 🍻
🎉 a party in the university castle's famous cellar 💃🏻🕺🏽

Don't worry if you cannot participate in the hike, an alternative program will be available.

Don't miss this opportunity to be part of an impactful event that inspires personal growth and collective change.
Кога 🕕︎петък, 01 септември 2023 г., 18:00 ч. - неделя, 03 септември, 14:00 ч. Гринуич+2
🌐︎ Място Osnabrück φ52.27375 λ8.04794
Интернет адрес https://my.aegee.eu/events/beyond-boundaries
Организатор AEGEE-Osnabrück
Категория: Training
Въведено: неделя, 02 юли 2023 г., 21:07:46 ч. Гринуич+2
Последна промяна: петък, 18 август 2023 г., 12:01:24 ч. Гринуич+2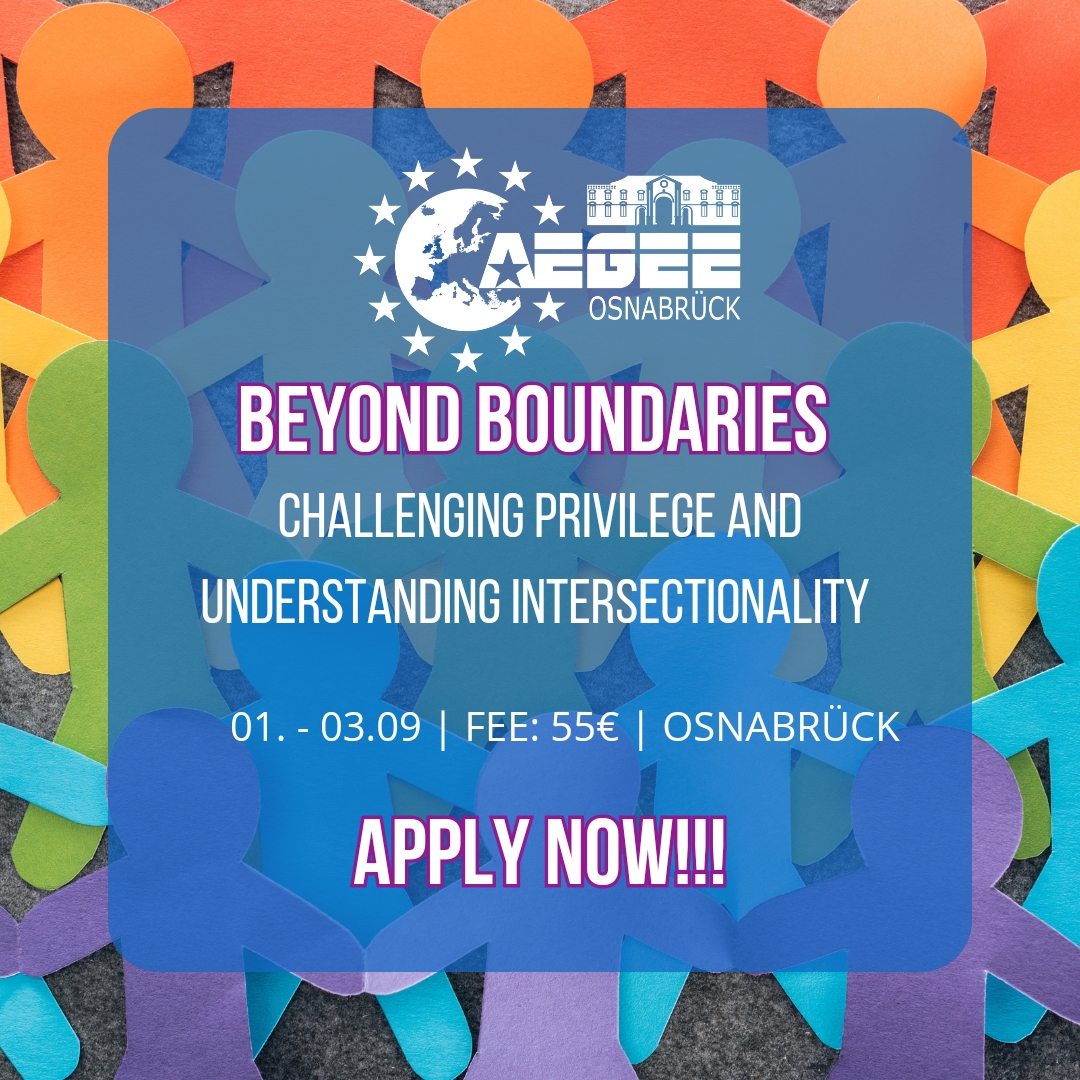 Връзка към календара https://cal.aegee.org/?d=2023-09-01&id=e947872a-224b-4c84-8d25-90a541a9ec6-211&cal=0
💾︎iCalendar файл https://cal.aegee.org/c/0/e947872a-224b-4c84-8d25-90a541a9ec6-211.ics
Календар OMS