NWM: Ready Player 1
Welcome to the extraordinary world of the network meeting! A place where you will share your best practices with other locals to help the network be stronger💪 you will also be able to connect with other AEGEEans and design the future through project hub🤩
During this amazing event you can also help to discover what's happened to the mascot Evan🤨. One moment he was chilling playing videogames and then suddenly a whirpool appeared in the screen and absorbed him into the digital world!😨 Evan is now lost, wandering around several videogames worlds and if he is not rescued soon, he will soon become part of the digital world and won't be able to return again😥 It doesn't matter that you are a total gamer🎮 or that you just know the basics, you will have a lot of fun solving challenges and visiting the videogame worlds just in time for a very special European Night😏


#What is included: 3 meals per day😋, accommodation🏡, interactive sessions🗣️ of sharing best practices, project hub and others, an amazing social programme 🪩👽🎲 and many surprises😍

Link to anti harassment protocol that will be followed during the event: drive.google.com/file/d/1Cz22FUfcHs8c82ikvZUlvy4G2nlxpAB4/view?usp=drive_link

Link to the damages and harm disclaimer: drive.google.com/file/d/1tJXye2VWFmfybaGA2mAkOUQI2WRL6CcR/view?usp=drive_link
This event was organized by Network Commission and AEGEE-Valladolid.
Кога 🕕︎петък, 10 ноември 2023 г., 18:00 ч. - неделя, 12 ноември, 16:00 ч. Гринуич+1
🌐︎ Място Valladolid φ41.60322 λ-4.71984
Интернет адрес https://my.aegee.eu/events/nwm-ready-player-1
Организатор AEGEE-Valladolid, Network Commission
Категория: Network meeting
Въведено: събота, 16 септември 2023 г., 11:02:15 ч. Гринуич+2
Последна промяна: четвъртък, 12 октомври 2023 г., 20:55:33 ч. Гринуич+2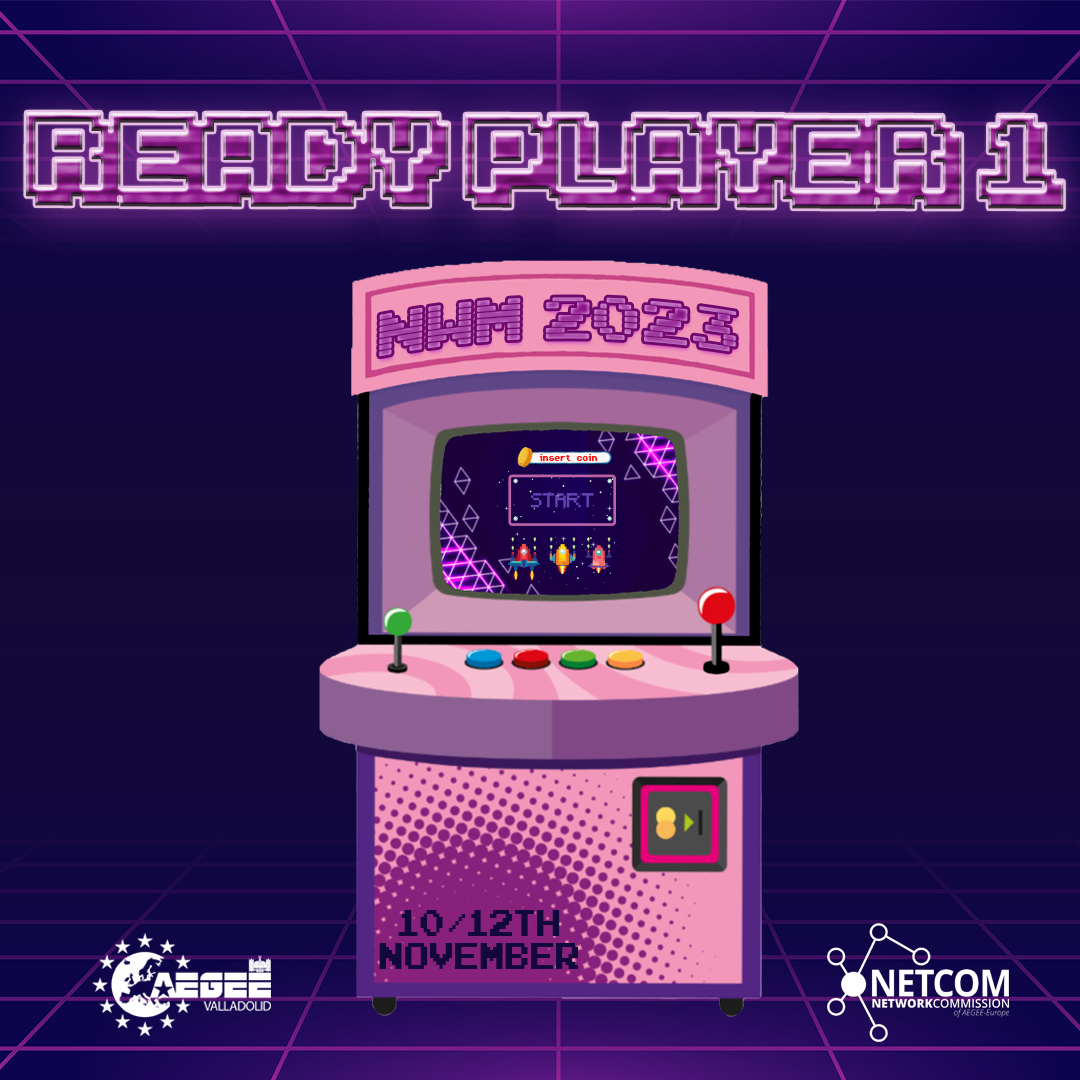 Връзка към календара https://cal.aegee.org/?d=2023-11-10&id=e947872a-224b-4c84-8d25-90a541a9ec6-220&cal=0
💾︎iCalendar файл https://cal.aegee.org/c/0/e947872a-224b-4c84-8d25-90a541a9ec6-220.ics
Календар OMS