NWM Gdańsk: Polish your skills, get it Gdonesk!
Do you think you could bring some shining ideas💡 and inspiration✨ to the gloomy and busy days of December and spark new friendships all across our network🌐? Well, look no further because we are here to present you an unforgettable Network Meeting in Gdańsk, the Polish Capital of Amber! 🤩

Sounds good? During four memorable days you get to share best practices, launch possible collaboration ideas and learn how to make your local better😎 and stronger💪 than ever. We will take a thorough look into the HR cycle👥, get acquainted with the European level🌍 and its possibilities, learn about FUNdraising💰 and lastly how to tackle sexual harassment✋.

Besides the inspiring sessions designed to focus on your local's needs and aspirations, we have an exciting social programme🕺 planned, of course including the traditional European Night🥂 and many surprises🤭. We provide two meals🍝 per day and accommodation🛌, in return you bring your creativity🎨 and curiosity💫!

Apply now to polish your skills and get it done the AEGEE way! 💅
Applications are open until Friday, 1 December at 22:59 UTC. The fee is 70€. This event is for 30 participants and is organized by Network Commission and AEGEE-Gdańsk.
Кога 🕒︎четвъртък, 07 декември 2023 г., 15:00 ч. - неделя, 10 декември, 13:00 ч. Гринуич+1
🌐︎ Място Gdańsk φ54.36428 λ18.65731
Интернет адрес https://my.aegee.eu/events/nwm-gdansk-polish-your-skills-get-it-gdonesk
Организатор AEGEE-Gdańsk, Network Commission
Категория: Network meeting
Въведено: понеделник, 02 октомври 2023 г., 08:29:27 ч. Гринуич+2
Последна промяна: сряда, 29 ноември 2023 г., 22:55:30 ч. Гринуич+1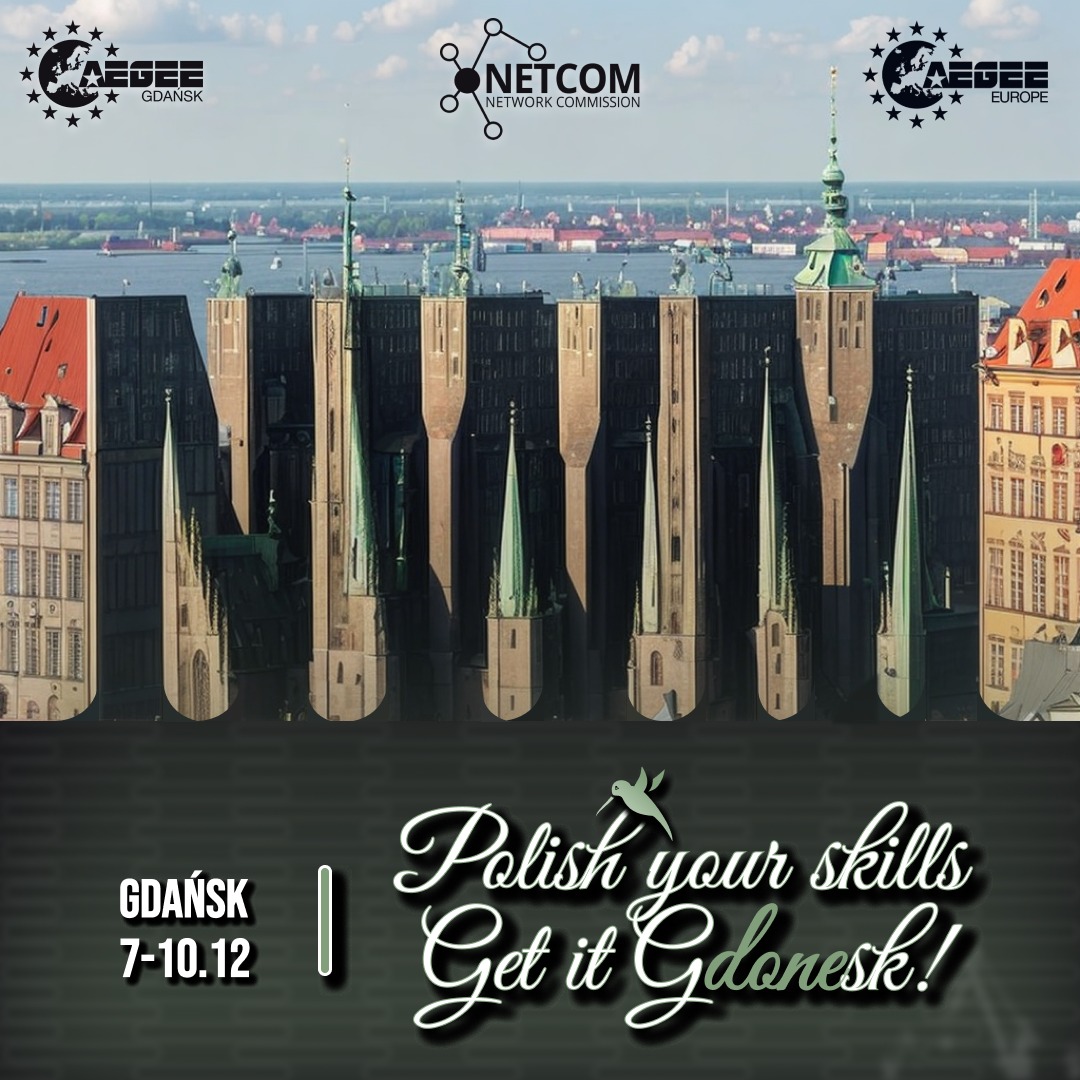 Връзка към календара https://cal.aegee.org/?d=2023-12-07&id=e947872a-224b-4c84-8d25-90a541a9ec6-223&cal=0
💾︎iCalendar файл https://cal.aegee.org/c/0/e947872a-224b-4c84-8d25-90a541a9ec6-223.ics
Календар OMS