Oh Deer - winter's here
OH DEER - WINTER'S HERE! AEGEE-Bamberg is back and invites you to celebrate the winter season in Franconian style!

Have you ever been to a real Christmas market? Have you ever tasted "Glühwein" or "Feuerzangenbowle"? You always wanted to know where the gingerbread comes from? And what Christmas traditions Germans have? 🎅🏻
Apply now - we will show and teach you all of it!

AEGEE-BAMBERG will take you and 14 friends from all over Europe on a journey through winterly Franconia in Bavaria. You will be accommodated in Bamberg, one of the historically oldest and most beautiful cities in Germany. ✨ The old town of Bamberg belongs to the UNESCO world heritage due to several reasons: crooked buildings, centuries-old churches, a city hall built on water as well as little Venice. On top of that you will find the biggest beer density and diversity worldwide! Have you ever tried a smoked beer? If you haven't yet, now is your chance! 🍻 You will furthermore experience typical Franconian dishes and the Franconian landscape. AEGEE-Bamberg will take you on a trip to Nuremberg, the city where gingerbread comes from and you will enjoy the most famous Christmas market in Europe: Christkindlmarkt Nuremberg.🎄

A various program awaits you, including e.g.:

Diverse Christmas markets with the drinks "Glühwein" and "Feuerzangenbowle", a typical German Christmas party, a day in the franconian wildness, ice skating, self-made white sausage breakfast, visit of a gingerbread manufacturer and brewery, typical Bavarian beer including the famous smoked beer and a club night aka Schwof!🤩

AEGEE-Bamberg provides you two meals everyday including typical and traditional German dishes of course! 🍽️

You and the other AEGEEans will stay at Bamberg's "Très Schick" hostel, a perfectly located accommodation in the heart of Bamberg.❤️ You don't have to worry about an air mattress or bed sheets, ordinary beds and bathrooms are waiting for you. 🛏️

Who are we looking for? Our perfect participant is open minded, engaged to meet new people and motivated to take a deep dive into the German and Franconian Christmas culture, including special food and different types of alcohol.🎉 We will show you how Germans are celebrating the Christmas season and we expect you to participate - don't be shy. ;-)
Applications are over.
When 🕒︎Friday, December 15, 2023 at 15:00 - Tuesday, December 19 at 10:00 GMT+1
🌐︎ Location Bamberg φ49.8933 λ10.88668
URL https://my.aegee.eu/events/oh-deer-2023
Organizer AEGEE-Bamberg
Category: Cultural
Created on Sunday, October 15, 2023 at 10:16:36 GMT+2
Last modified on Tuesday, November 21, 2023 at 06:46:32 GMT+1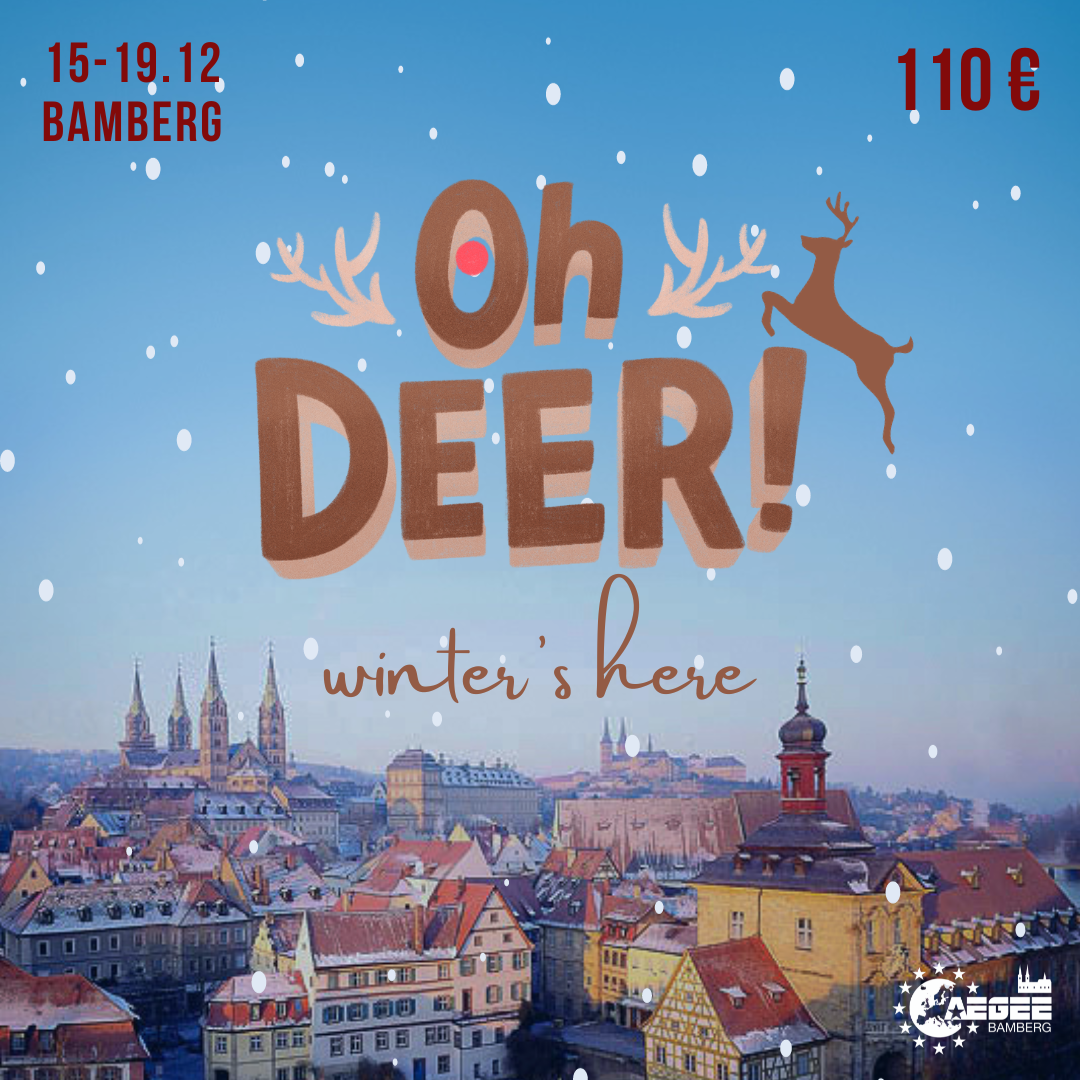 Link to calendar https://cal.aegee.org/?d=2023-12-15&id=e947872a-224b-4c84-8d25-90a541a9ec6-229&cal=0
💾︎iCalendar file https://cal.aegee.org/c/0/e947872a-224b-4c84-8d25-90a541a9ec6-229.ics
Calendar OMS