On The Way to 2024!
Ever heard of a traveling NYE? 🚂❄️❄️❄️

AEGEE-Brno has for you an event split equally between 3 beautiful historical cities! We will start in Prague, the capital and one of the most visited cities in the world 🏰 continue to Mikulov, the wine capital of the Czech Republic 🍇 and finish our journey in Brno, a student city on the top of Erasmus poles every year 🎓

For each city, there is a cool hostel waiting for you (yes, no mattresses or sleeping bags needed 🛏️). Get your swimming suit ready for Prague, the hostel has a pool 🏊 In Mikulov, we'll have the whole hostel just for us, only the welcome drinks are joining 😉 And during Brno time, you can experience an actual nuclear shelter repurposed as a hostel right in the city center 🤩

Apart from 3 city tours, we have a lot of other amazing activities ready for you! During the day you can look forward to Prague Christmas markets and ice skating ⛸️ get into the NYE party mood by spending the day in the biggest Aqualand and wellness in Moravia 🧖 enjoy the view from the Brno castle and learn a bit about our culture during Czech Advent WS 🧑‍🎄

Our social program will be packed as well! Do you like singing? Then you're in luck since you're about to get 2 completely different karaoke experiences 🎤 we'll open with the hottest English speaking karaoke place in Prague and close the whole event with our own private VIP room of the Brno's main karaoke bar! You'll get to see more of the typical student places in Brno during our time-tested pub crawl 🍻 Wine tasting in Mikulov is not just a standard degustation, fancy dinner and an unlimited wine consumption will be included as well 🍷 And what better way to welcome the New Year than with a European night? But don't worry, you won't miss your fireworks 🎇🍾 we can watch them directly from gardens of chateau Mikulov.

So don't hesitate and join us On The Way to 2024!
Optional programme: Wine tasting, day in Aqualand
Applications are over.
When 🕑︎Thursday, December 28, 2023 at 14:00 - Wednesday, January 03, 2024 at 10:00 GMT+1
🌐︎ Location Prague φ50.08737 λ14.42357
URL https://my.aegee.eu/events/on-the-way-to-2024
Organizer AEGEE-Brno
Category: Cultural
Created on Monday, October 16, 2023 at 13:27:39 GMT+2
Last modified on Monday, October 16, 2023 at 15:38:31 GMT+2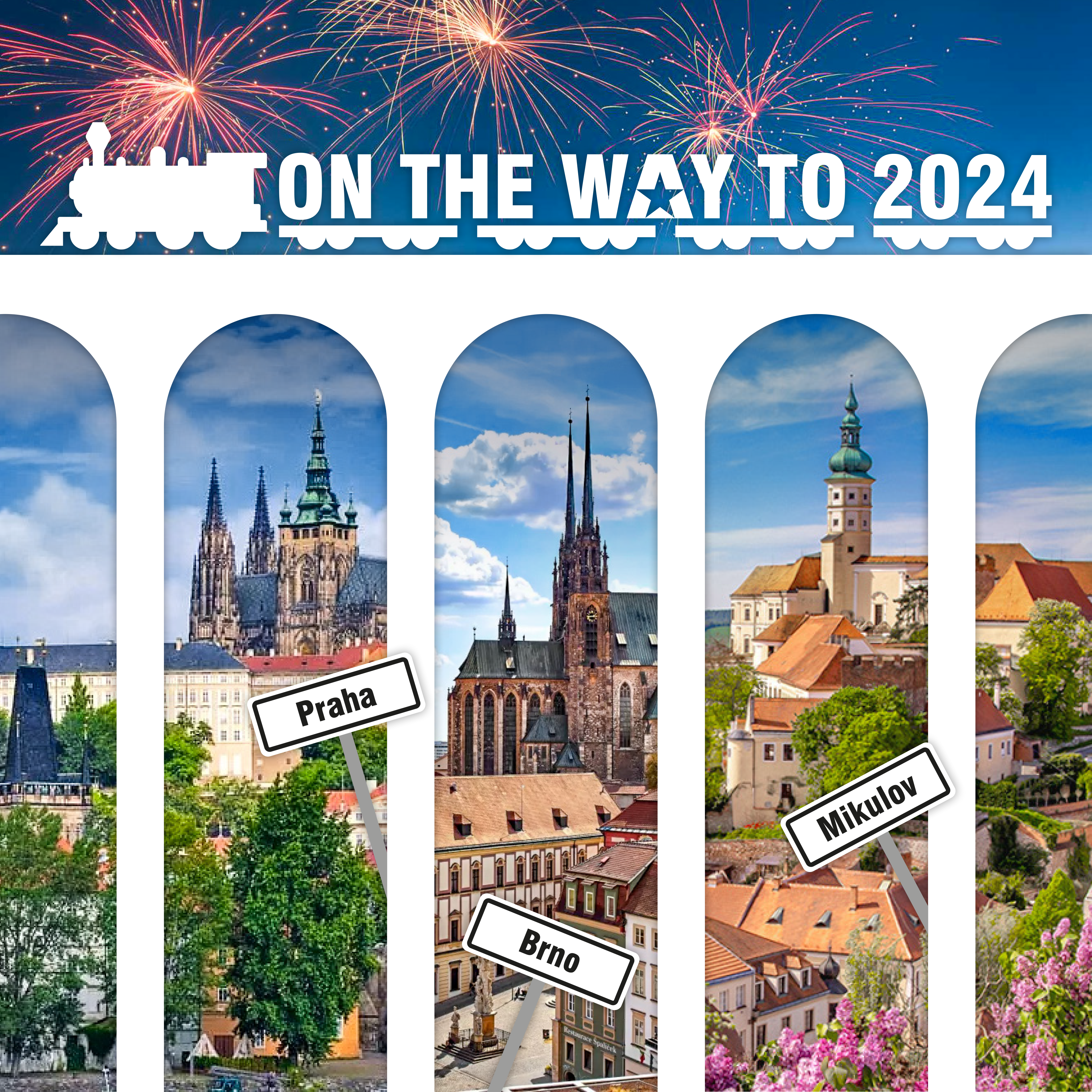 Link to calendar https://cal.aegee.org/?d=2023-12-28&id=e947872a-224b-4c84-8d25-90a541a9ec6-234&cal=0
💾︎iCalendar file https://cal.aegee.org/c/0/e947872a-224b-4c84-8d25-90a541a9ec6-234.ics
Calendar OMS