Warm Winter Shivers III
Third time is the charm!
Not like the previous years were a fluke, of course! We are just that good! \
It's us again again🎉, we can't leave you with nothing to do on this New Year's Eve so AEGEE-Udine is back in a inevitable New Years Eve once more together with AEGEE-Treviso! ☃❄

You have to be: Ready to suffer the cold weather of the mountains during winter, to watch the beauty of the Italian Alps, and prepare yourself to spend all of your energies with us!\
Wouldn't it be nice to come to meet new people for the New Year in one of the most densly hystorically packed places on the planet? Even Napoleon came by Friuli! There's so much beauty we need to share it!

We will be staying in Trichiana, in an alpine hut in Veneto's mountains, and Udine city in gym! 🏞

These will be some of our focuses 🔎

- Visiting many places around our first location! 📷\
- Cooking workshop: learn how to prepare the best foods of our regions! (It's not just pizza..) 👩‍🍳

- Ice skating - a tradition on new year's holidays! ⛸️

- Visiting Udine - the little Venice on land 🏰

- Visiting Belluno - the shiny gem at the foot of the Dolomites ⛰️

- Visiting Treviso - the land of Tiramisù and Prosecco™ 🥂

- And, if that's not enough for you, as an optional activity, snowshoeing in the Dolomites! Unesco World's Heritage!

- Partying like crazy! 🎊

What you need 📑

- Tons of energy! ⚡

- Sleeping bag 🛏️

- Warm clothes and trekking boots!

- Typical food/drinks for the European Night! 🍹🍷


There's no time to waste! 🕒🔥 There's definitely nothing better to do than enjoying the New Year's Eve with the AEGEEan spirit! 😜
Optional programme: Snowshoeing in the Dolomites! Unesco World's Heritage!
Applications are over. This event is organized by AEGEE-Udine and AEGEE-Treviso.
Wann 🕕︎Mittwoch, 27. Dezember 2023 um 18:00 - Mittwoch, 03. Januar 2024 um 08:00 MEZ
🌐︎ Ort Udine φ46.06075 λ13.22933
URL https://my.aegee.eu/events/warm-winter-shivers-iii
Veranstalter AEGEE-Treviso, AEGEE-Udine
Kategorie: Cultural
Erstellt am Freitag, 03. November 2023 um 00:07:11 MEZ
Letzte Änderung am Sonntag, 12. November 2023 um 12:24:06 MEZ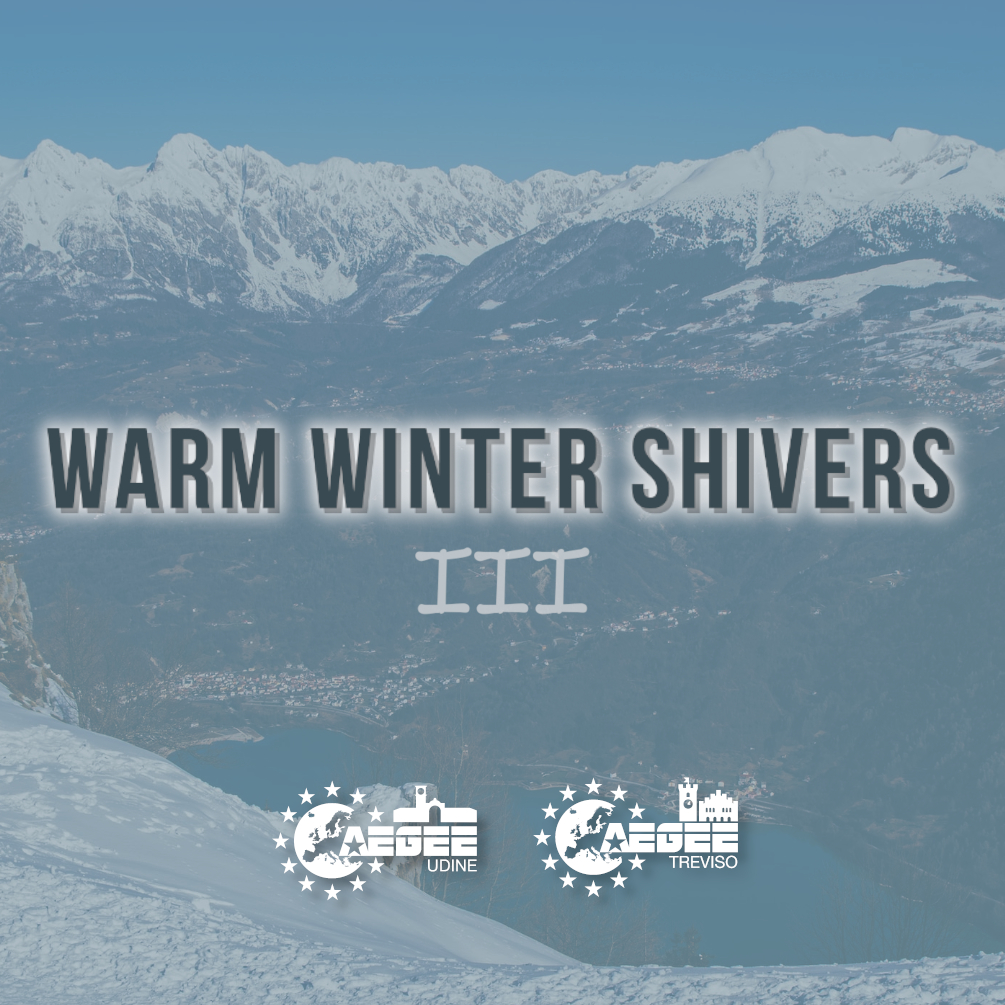 Verknüpfung zum Kalender https://cal.aegee.org/?d=2023-12-27&id=e947872a-224b-4c84-8d25-90a541a9ec6-236&cal=0
💾︎iCalendar Datei https://cal.aegee.org/c/0/e947872a-224b-4c84-8d25-90a541a9ec6-236.ics
Kalender OMS