Application deadline: De-Tech 3.0: start the new year in the greenest region in Europe without a phone
The event takes place from Friday, 29 December 2023 until Tuesday, 2 January 2024.

Kick off 2024 with us 🥂 at our De-Tech Event hosted by AEGEE Pescara, an opportunity to detach from the digital world and fully immerse yourself in the natural beauty and rich cultural heritage of Abruzzo, renowned as the greenest region in Europe. Here's what makes this event a must-attend:

🍁❄️ Lose yourself in the enchanting woods of Abruzzo, amidst unique foliage and the possibility of witnessing the first snowfall of the season (fingers crossed for snow!).

🏰 Explore captivating medieval villages and castles, like Pacentro, hailed as one of Italy's most beautiful villages.

🌄 Discover the hidden treasures of Sulmona's ancient town, older even than Rome, and be captivated by its traditions and stories.

🐻 With a bit of luck, you might spot Appenninico wolves and deer, two of the region's most intriguing wildlife.

🍝 Join our workshop to master the art of making arrosticini, a culinary specialty of Abruzzo.

🚂 Embark on a day trip to Campo di Giove village, a stop along the "Transiberiana d'Italia," one of the world's most breathtaking railway trails, offering panoramic views and an adventure park (the game where you navigate treetop obstacles).

📸 Participate in our polaroid photography contest, where each participant takes one picture. Given our team includes a film director and a professional photographer, we'll also offer a workshop on eco-sustainability, photography, and the mindful avoidance of technology. You won't have your phone during the day, but you'll have the chance to take a polaroid photo with a camera provided by one of our organizers.

🎅🏼 Savor the delectable dishes and handcrafted products in the typical Christmas markets of Abruzzo.

🎆 Last but certainly not least: party, party, and more party! We'll host the European Night, an 80's night, and the traditional regional New Year Party on the 31st, with the city alive and buzzing. Can you picture it? - a pub crawl, karaoke night, and another pub crawl.

Please note that the event fee covers two meals per day, including traditional and mouthwatering cuisine from our region, highly regarded by Michelin. Furthermore, as this event promotes minimal technology use, participants will only be given their phones during the nights. A primary phone will be available with the organizers at all times for emergency situations. Don't let this unique opportunity to explore Abruzzo and disconnect from the digital world slip away!
Optional programme: Day at the Adventure Park The fee is 200(+20)€. This event is for 15 participants.
Краен срок 🕦︎неделя, 03 декември 2023 г., 23:59 ч. Гринуич+1
🌐︎ Място Sulmona φ42.05533 λ13.92319
Интернет адрес https://my.aegee.eu/events/de-tech-30-start-the-new-year-in-the-greenest-region-in-europe-without-a-phone
Организатор AEGEE-Pescara
Категория: Cultural
Въведено: четвъртък, 09 ноември 2023 г., 00:04:04 ч. Гринуич+1
Последна промяна: вторник, 28 ноември 2023 г., 10:39:32 ч. Гринуич+1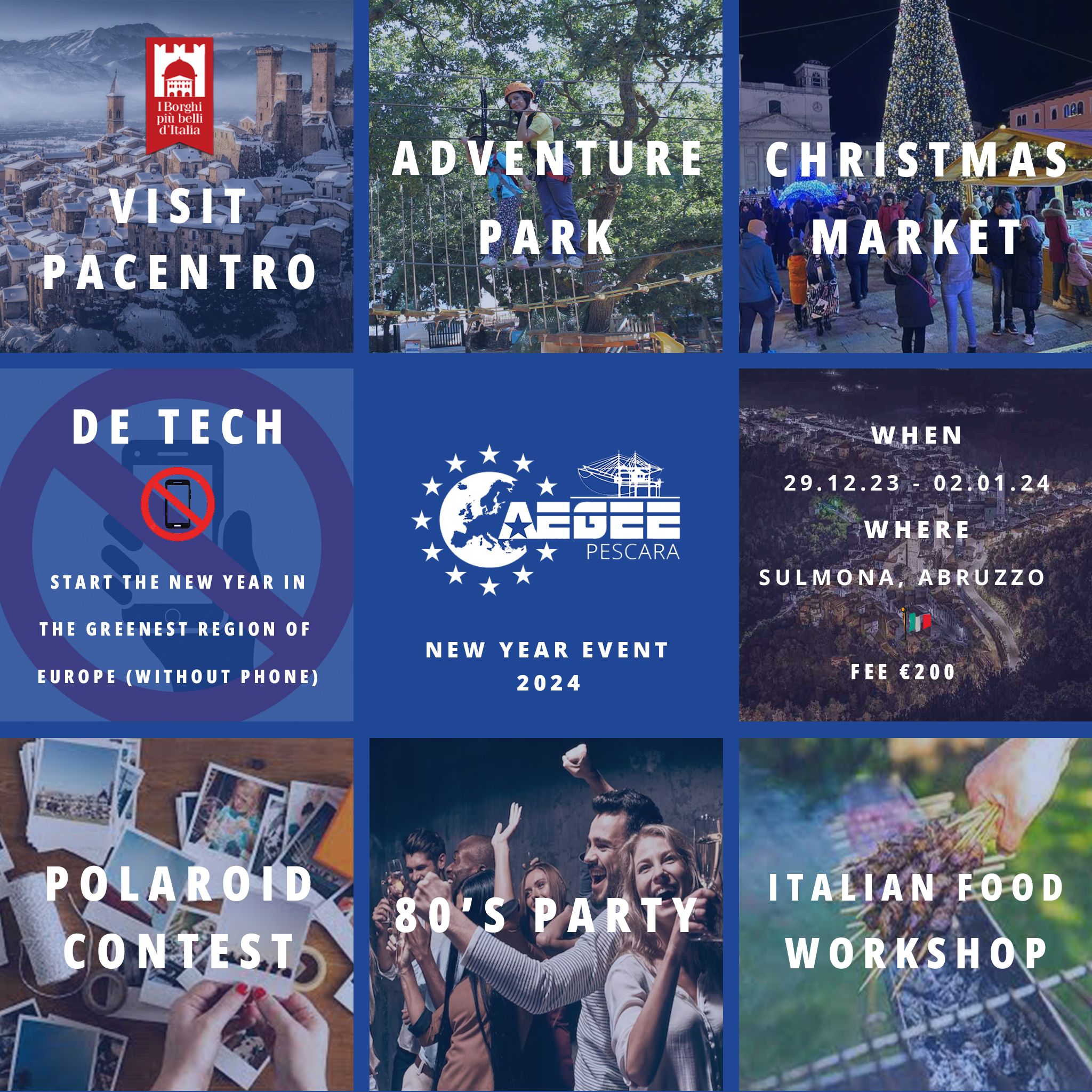 💾︎iCalendar файл https://cal.aegee.org/c/0/e947872a-224b-4c84-8d25-90a541a9ec8-237.ics
Календар OMS